Olive Garden Minestrone Soup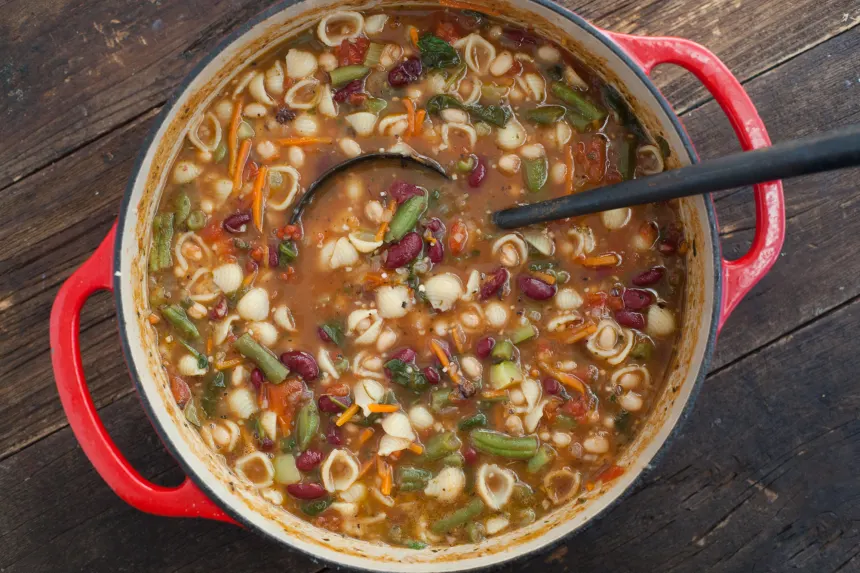 photo by Genius Kitchen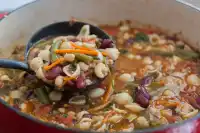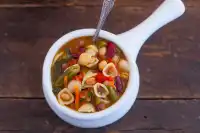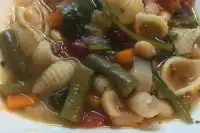 Ready In:

3hrs 20mins

Ingredients:

20

Serves:

10
directions
Slowly saute finely minced onion, celery and carrot in butter until very brown.
Add peas and beans and about 3 quarts of water.
Cook slowly until beans are almost done (check garbanzos- they will take the longest) about 2 to 2 1/2 hours.
Add the remaining vegetables, rice and spices and more water if necessary and cook another hour.
About 20 minutes before serving time add the macaroni and more water if needed.
Ladle into bowls and sprinkle with Parmesan cheese.
Serve with crusty garlic bread.
Questions & Replies

What happened to the recipe it changed. I had done this recipe before and now it is different. is it possible to get the original how to, to this recipe. Produce 4 cups Baby spinach, fresh 1/2 tsp Basil, dried 1/2 cup Carrot 1/4 cup Celery 4 tsp Garlic 1/2 cup Italian cut green beans, frozen cut 2 (15 ounce) cans Kidney beans, red 1 1/2 tsp Oregano, dried 2 tbsp Parsley, fresh 1/4 tsp Thyme, dried 1 (14 ounce) can Tomatoes 1 cup White onion 1/2 cup Zucchini Canned Goods 4 cups Vegetable broth Pasta & Grains 1/2 cup Shell pasta, small Baking & Spices 1/2 tsp Black pepper, ground 1 1/2 tsp Salt Oils & Vinegars 3 tbsp Olive oil Liquids 3 cups Water, hot

 
Reviews
I was disappointed to see the old recipe was removed and links to here instead. Wanted to share the old recipe with you all in case you still want it: COPYCAT OLIVE GARDEN MINESTRONE SOUP BY TODD WILBUR READY IN: 45 mins SERVES: 8 INGREDIENTS 3 tablespoons olive oil 1 cup minced white onion (about 1 small onion) 1/2 cup chopped zucchini 1/2 cup frozen cut Italian cut green beans 1/4 cup minced celery (about 1/2 stalk) 4 teaspoons minced garlic (about 4 cloves) 4 cups vegetable broth (Swanson is good *note ( Do not use chicken broth!*) 2 (15 ounce) cans red kidney beans, drained 2 (15 ounce) cans small white beans or 2 (15 ounce) cans great northern beans, drained 1 (14 ounce) can diced tomatoes 1/2 cup carrot (julienned or shredded) 2 tablespoons minced fresh parsley 1 1/2 teaspoons dried oregano 1 1/2 teaspoons salt 1/2 teaspoon ground black pepper 1/2 teaspoon dried basil 1/4 teaspoon dried thyme 3 cups hot water 4 cups fresh Baby Spinach 1/2 cup small shell pasta DIRECTIONS Heat three tablespoons of olive oil over medium heat in a large soup pot. Saute onion, celery, garlic, green beans, and zucchini in the oil for 5 minutes or until onions begin to turn translucent. Add vegetable broth to pot, plus drained tomatoes, beans, carrot, hot water, and spices. Bring soup to a boil, then reduce heat and allow to simmer for 20 minutes. Add spinach leaves and pasta and cook for an additional 20 minutes or until desired consistency. Makes about eight 1 1/2 cup servings.

 

This is NOT the original recipe. Lucky I wrote the original recipe down. For those that need it. Ingredients- 2 Tbs olive oil; 1 onion diced (1 cup); 1 celery diced; 1 carrot, peeled & diced; 1 zucchini, chopped; 2 tsp minced garlic; 14 oz can diced tomato; 32 oz vegetable stock; 1 bay leaf; 1 1/2 Tbs Italian seasoning; 2 Tbs tomato paste; 15 oz canned small white beans, rinsed drained; 15 oz canned kidney beans rinsed & drained; 1 cup green beans chopped; 1/2 cup small shell shaped pasta; Parsley for garnish. Instructions- 1.)Heat olive oil in stockpot. Add onions, celery, carrot, & garlic. Season w/salt. Cook 3-5 min. 2.)Add canned tomatoes, veggie broth, tomato paste, Italian seasoning & Bay leaf. Bring to a boil then turn down to simmer. 3.)Add beans, green beans, zucchini & pasta. Simmer 15 min or until pasta & veggies are tender. Season with 1 tsp salt & pepper.

 
RECIPE SUBMITTED BY
I live in Las Vegas. I was lucky enough to run into Recipezaar around Nov. 2000 and got hooked quickly. I am a cookbook collector and have been collecting recipes for as long as I can remember. My DH had to build in shelves for all my cookbooks! I like to dabble with OAMC and for a few years hosted the Budget/OAMC forum with some great people over there. Even though I don't work in the forum any longer I've set up a lot of cookbooks for the purpose of OAMC and stretching food that might be helpful. Please feel free to check them out! I go on food jags and cooking jags! Please come say hi to me and chat on facebook. I currently host a blog for saving money through finding deals and coupons if you are interested. Most of the time I try to cook and have a good dinner on the table but I'll be honest enough to say there is still fast food occasionally in the budget! I have had such wonderful support here whenever I need it. Thank you all for being here! Just a quick note on how I rate recipes: ? 5 stars - This recipe is perfect. (My DH is truly a critic and doesn't give 5's unless it's amazing) I would recommend it to others and would definitely make again. ? 4 stars - This recipe was good but I would change something in it next time. ? 3 stars - This is a recipe I would not make again but it was OK ? 2 stars - This recipe I would not make again and we didn't like it at all ? 1 star - This recipes did not work out/taste was unappealing and wouldn't make again
View Full Profile