Olive Garden Style Chicken and Gnocchi Soup
photo by Jonathan Melendez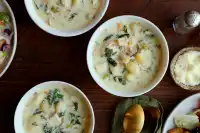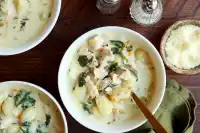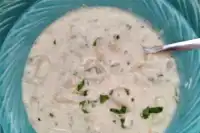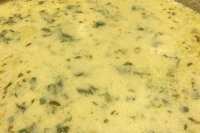 Ready In:

35mins

Ingredients:

13
directions
Saute the onion, celery, garlic, carrot in oil over medium heat until onion is translucent.
Add chicken, chicken stock, half and half, salt and pepper, thyme. Heat to boiling, then add gnocchi. Gently boil for 4 minutes, then turn down to a simmer for 10 minutes.
Add spinach and cook for another 1-2 minutes until spinach is wilted.
(Heat to boiling and add cornstarch dissolved in 1-2 Tbsp water at this point if you want a thicker soup.).
Ladle into bowls and serve!
Questions & Replies

Is my Olive Garden different? All these copycat recipes that I've seen of the Chicken and Gnocchi soup have loads and loads of vegetables in them. That is my favorite soup there, even over and above their meals. I could go and just eat the soup! My OG chicken soup has some Gnocchi, which tastes like dough to me, I request that it be omitted from my soup. So, that leaves some tiny pieces of celery, the chicken, some thin shreds of carrot, I assume some teeny pieces of chopped onion and other unseen spices, and it has the most delicious taste that has ever passed my lips. So, when the copycat authors write their recipes, are they true copycat, or have they thrown in a bunch of veggies to make it appear more attractive, or more healthy, or ? ? ? Do other OGs make the soup like the copycats, cram full of veggies, or as I described ours?

 
Reviews
My family and friends request this all the time...they are say its just as good if not better than the OG...I do make a few changes...I use 1.5C fat free half and half and .5c cream....have tried several ratios but this seems the best to keep it low cal and true to taste...i also boil the gnocchi in the soup before I add cream and H&H ...otherwise it seperates. ..use fresh thyme instead of dried too.

 

My husband and I LOVE this soup! We haven't even gone to Olive Garden since I started making it. I did make a couple of small changes to suit our preferences - but nothing major. I cook the gnocchi a little longer than indicated because my husband likes them super fluffy and cooked through. I also add the heavy cream and spinach right before I serve it. We found the cream seperates a bit if you add it when the recipe calls for it. If you use heavy cream you don't have to use the cornstarch. I serve it with french bread or garlic breadsticks. I can have this soup on the table in about 35-40 minutes - easy and quick.....can't ask for anything more!

 

I actually work at the Olive Garden and I don't really like this soup..it is my least favorite. However, my boyfriend absolutly LOVES it..so i found this recipe about a year ago and have made it ever since!!!! It is WAY better than Olive Garden's, and I am not the only person who has said that. I made it for my family one night and the next day we all went and ate at Olive Garden and they compared soups and said that mine was better. I make this once a week and I never get tired of it!!! Awesome recipe!

 

I've made this recipe so many times I can't even count. I always follow the recipe to the best of my ability.. (more or less veggies/chicken here and there). it comes out a little bit different every time but is always delicious... I love it! I've noticed many of the reviews say to add less chicken to make it more like the real thing (Olive Garden), but I happen to like it with more chicken that way I can have it as a meal instead of an appetizer.

 
Tweaks
Seriously almost but not quite. Do not use thyme, use fresh basil instead, cook the gnocchi in boiling salt water add to the soup and increase the spinach to 3 cups add at the end with the gnocchi, you just want to wilt the spinach, then add the fresh basil and parmesan cheese and serve. I have seen this exact recipe posted on so many different sights, .

 

Great recipe; can easily be altered and still taste great. I didn't use chicken but instead, used chopped potato and broccoli. I also substituted the celery with mushrooms, the spinach with frozen kale from my backyard and added more carrot than stated. Mine turned out chunky full of veggie goodness. 5/5 would make again!

 

This soup is so delicious!!!!! Was a huge hit the first time I made it and everyone says it's better than Olive Garden! It will definitely be a regular request in my family! I followed the recipe with only a few exceptions only based on what I had (like canned chicken instead of cutting up chicken). It came out perfectly without twewking anything.