Zwiebelsuppe (Clear German Onion Soup )
Bergy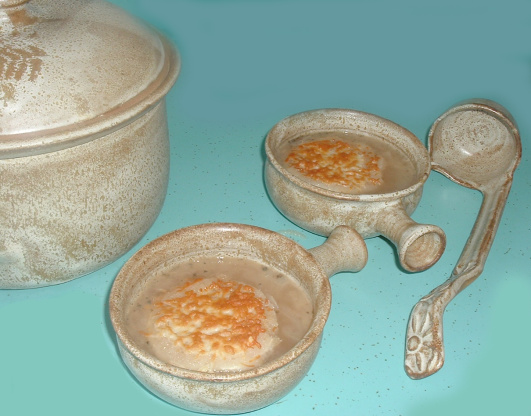 This is very different from French Onion Soup. The broth is very clear and smaller rounds of bread float on top of soup. Adapted from Schoener Essen magazine, translated from the German. Perfect choice for a dinner party.

i cooked this a bit longer than you suggested, i cooked the onions for 15 minutes until they were soft and sweet, then i followed your wonderful recipe. i used white pepper for color, and used rye bread and gruyere cheese, this was a delicious first course to our dinner last night.
Heat oil in a large pot.
Saute garlic slices and chopped marjoram 2 minutes.
Add the onion slices and cook about 5 minutes (or longer if you like them very soft).
Add wine and broth and cook, uncovered, 10 minutes at a gentle simmer (bubbling, but not boiling).
Meanwhile, heat up your broiler and line a baking sheet with foil.
Using a 6 cm round biscuit cutter, cut bread slices into rounds (discard excess)- you may also use a glass.
Set bread rounds on foil lined pan and sprinkle with cheese and broil only about 1 minute- just to melt cheese.
Test soup- season well with salt and pepper.
Soup is ready when onions are tender- broth will be very clear& pinkish in color.
Ladle into bowls and float a bread round on top of each bowlful, garnishing with some extra fresh marjoram if desired.