Zrazai (Lithuanian Beef Rolls)
IngridH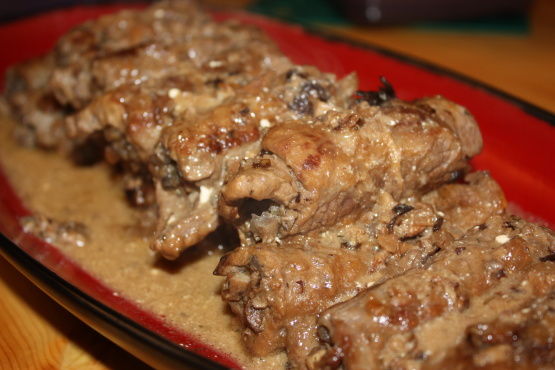 The traditional name for these comes from Polish,and they are now officially called "musti suktinukai", but the old name is still popular. This is a stuffed beef roll,a bit different from the more familiar German rouladen. Sandwich steaks are a great way to shortcut the prep. If you can get dried baravykai (porcini), the flavor is much enhanced, but don't worry about it if you cannot. Serve with mashed potatoes and a green veggie. Leftovers reheat and freeze very well.

This was wonderful! A lot like the Scandinavian rouladen I grew up eating, but with a different filling. I loved the combination of the mushrooms and rye bread crumbs. I used a rye with caraway seeds in it, and the caraway added a nice flavor of its own, enough that I'd consider putting a bit of caraway seed into the gravy next time. I tied these with string, as I think that makes them easier to brown on all sides than using toothpicks. I always have dried porcini on hand, and they were definitely a plus in this dish, adding flavor to both the filling and the gravy (using the soaking liquid). For the meat, I chose thin sliced bottom round, and as noted in the recipe, I had a bit of filling left over after filling the 1.6 pounds of meat. Next time I want beef rolls, it will be tough to decide if I should use the old family recipe, or this one! Thanks for a great dinner!
Rinse the dry mushrooms and place in a small bowl. Cover with boiling water and let stand overnight, or at least four hours.
Preheat oven to 350 deg. F.
Remove the dried mushrooms with a slotted spoon. Chop the mushrooms. Strain and reserve the soaking liquid (a coffee filter is good for this).
Melt the butter in a large skillet. Add the onions and both types of mushrooms and saute, over medium high heat, until the liquid released by the mushrooms start to evaporate, 10-12 minutes.
Remove to a bowl, add the breadcrumbs, salt and pepper, and mix well. Set aside. (You can prepare to this point, and refrigerate until you are ready to complete the dish).
1 1/2 lb of sandwich steaks comes as four large slices,typically. Place one slice on your work surface, lightly salt and pepper, and cut in half into roughly equal rectangular pieces.
If you are using round steak, try to buy it thinly sliced. Cut into 8 or 10 equal pieces, cover with plastic wrap and pound with a meat mallet until it becomes about 1/4 inch or so thick, about 4"x6". Salt and pepper as above.
Place a spoonful of the filling at one end, and roll it up, tucking in the sides. Use toothpicks to secure the packet (the round ones work best), If toothpicks are not available, tie up with kitchen string, but I think toothpicks are easier.
Heat the remaining butter and oil in a large skillet over medium high heat. Dredge the rolls in flour, tapping off the excess, and brown in the skillet.
As the rolls finish browning, remove them to a Dutch oven or similar covered casserole dish, keeping them in a single layer.
Reduce the heat to medium low, add 1/2 cup chicken stock and heat, scraping up the fond. Measure the mushroom soaking liquid and add enough broth to equal 1/2 cup. Add to the skillet and allow to heat.
Pour over the rolls, add the bay leaf, cover tightly and place in oven, for about 45 minutes. Test with a knife - the roll should pierce with no resistance.
Remove the rolls to a serving dish, removing the toothpicks. Defat the juices and serve on the side.
Note1: You can enrich the gravy with about 1/2 cup of sour cream, if you like.
Note2: If you have filling left over, and I usually do when using 1 1/2 lbs of meat, it is excellent as a filling for omelettes.
Note3: Beef broth is more traditional, but I like chicken broth better - believe me, it will taste very beefy at the end.
Note4: Feel free to play around with the filling - fresh parsley or dill is very nice, some people like add some diced bacon. If you do not have rye bread, then use any good quality non-sweet bread. I usually use a dark rye.