Rita1652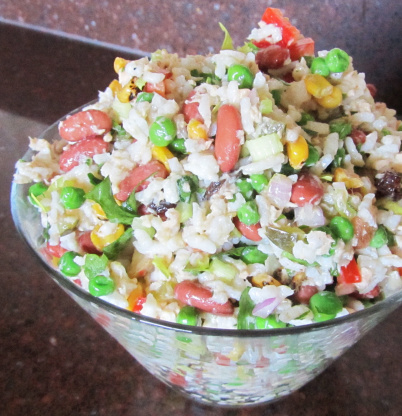 Hot weather is upon us and I don't like to spend too much time in the kitchen heating it up. I like to eat simpler and fresher, so tasty, main-course salads are the ticket! This salad makes me feel so good eating it, bringing balance to my appetite and my health, hence the name.

This makes a lot! Although I halved the recipe it was still more than plenty. The dressing is tangy and goes well with the salad. The leftovers needed a little more juice so I made some more dressing the next day. I think I would have preferred chick peas instead of the kidney beans but that is a matter of taste. All in all a good recipe with potential to play with. Thanks for creating and posting. Made for Raiders of the Lost Pantry Contest.
1 1⁄4 cups arborio rice
1 1⁄2 cups frozen green peas, cooked until tender

1

(15 ounce) can kidney beans or 1 (15 ounce) can chickpeas, drained and rinsed

1

(14 1/2 ounce) can corn niblets, drained

2

(6 ounce) cans tuna, drained and flaked

1

cup fresh parsley, chopped
1⁄2 cup red onion, minced (or any type of sweeter onion, like Vidalia)
1⁄2 cup celery, chopped
1⁄2 cup dill pickle, chopped
1⁄3 cup golden raisin, chopped

Dressing

1⁄2 cup extra virgin olive oil
1⁄3 cup fresh lime juice

2

tablespoons sweet chili sauce

1

tablespoon honey

1

tablespoon balsamic vinegar

2

teaspoons ginger, freshly-grated

2

teaspoons Dijon mustard
salt and pepper, to taste
Bring 1 1/4 cups rice and 2 1/2 cups water to the boil in a small saucepan. Add a dash of salt, lower heat to lowest setting, cover pot and cook rice for 15 minutes. Remove from heat and allow to cool to nearly room temperature, covered. Uncover and fluff with a fork (the arborio will not fluff like a pilaf does, but will have nice, toothsome chunks of sticky rice).
Empty rice into a large bowl. Add beans, corn, tuna, parsley, onion, celery, dill pickles and raisins. Combine.
Make dressing: Put all dressing ingredients in a mini-processor and whizz to emulsify. If you don't think it is tart enough, add more lime juice and/or balsamic. Add salt and pepper to taste.
Pour dressing over the salad and stir gently to coat all ingredients. Taste salad and adjust seasoning as it may need more salt and pepper, as per your preference.
Chill for at least 2 hours before serving to allow flavors to blend.