Ww Ham and Cheese Stuffed Potatoes
eabeler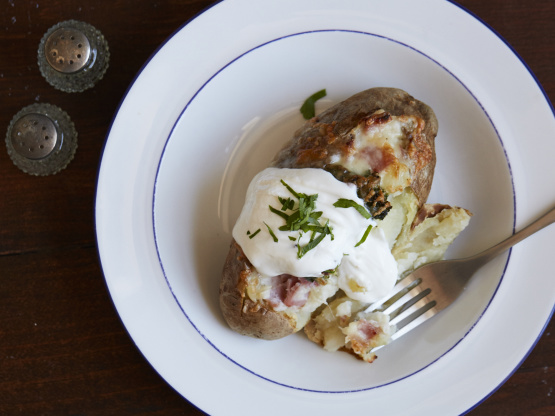 This is out of one of my old Weight Watchers cookbooks called "Simple Goodness". I have this marked as really good! Hope you enjoy :) I removed the point count on the title based on one of the reviews...

This was quite good and filling too! The only thing that could have made it better was the "good" versions of the lower fat ingredients lol. This is a bit of work, but worth the effort.
Preheat oven to 400 degrees fahrenheit.
Bake potatoes at 400 degrees for 1 hour and 15 minutes or until tender. Let cool slightly.
Melt margarine in a nonstick skillet over medium-high heat. Add broccoli and onion; saute' 3 minutes. Add broth; bring to a boil.
Cover, reduce heat, and simmer 5 minutes or until broccoli is tender. Remove from heat; stir in ham and pepper.
Cut a lengthwise strip from top of each potato; discard strips. Scoop out pulp, leaving 1/4 -inch-thick shells; set shells aside.
Place potato pulp in a bowl; add 2 tablespoons sour cream, and mash to desired consistency. Stir in broccoli mixture. Spoon mixture evenly into potato shells.
Place potatoes in an 11X7 inch baking dish coated with cooking spray. Bake at 400 degrees for 15 minutes or until thoroughly heated.
Top each potato with 2 tablespoons cheese, and bake an additional 3 minutes or until cheese melts.
Top each potato with 1 Tablespoon sour cream.