Rita1652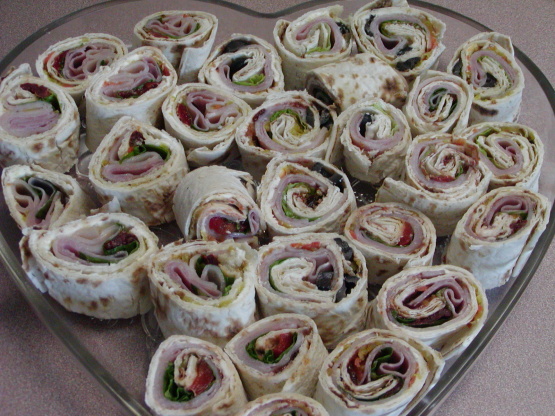 I made these as an Appetizers but you can leave them whole as a wrap for lunch. They are filled with a couple of different things as you can see in the uploaded pictures giving you a variety of appetizers. Now this is a recipe that you can play with. Try leftover roast beef or turkey breast, sprouts, shredded carrot, cucumber slices.... You can use any spreads of choice like garlic herbed butter, Mustard...Then watch everyone try one then go for on other trying to figure out what's inside each one. These are great for a picnic or to take to school or work just wrap the rolled wrap whole in plastic wrap.

Delicious! I was skeptical about the ingredients (pepper jelly??) and I was PLEASANTLY surprised. I didn't have roasted bell peppers and I used kalamata olives in lieu of the black olives. I also used sun-dried tomatoes in oil (I drained the oil); the recipe didn't specify but I think sun-dried tomatoes without the oil would be too chewy. The key to making it healthy is to remember, LESS IS MORE! The first wrap had the jelly dripping out of the ends; it was too much. I used Healthy Ones Turkey Breast which is thinly sliced; it was very filling and I only used four slices per tortilla. I realized using more lettuce made the rolls thicker and included fewer calories too. This was so good that I made it for breakfast. I think sliced cucumbers would be good with this too. A DEFINITE KEEPER!
Note: Plum Jam With Lime and Ginger (recipe#100440); Spicy Habanero Jelly (recipe#68981); Fig Preserves recipe (#68919); Spicy Hot Pepper Jelly (recipe#99942); Zucchini Pineapple Ginger Jam (recipe#95600); Raspberry Cranberry Preserves (recipe#77512); or your favorite.
Lay the wraps on a large surface.
Spread 1/6 of cream cheese on each wrap follow with jam or jelly of your choice.
These are used as a glue as well a flavoring.
I used 2 kinds one on 3 wraps and the other on the other 3 wraps.
Arrange on the jelly the lettuce leaves follow with the cold cuts.
Then half the wraps place 4 slices of sun dried peppers across the wrap in one row.
Repeat with the other 3 wraps place the peppers as you did the tomatoes.
As shown in picture.
Sprinkle the olives on 3 of the wraps.
Pull the center over and roll tightly into a cylinder.
Slice 1 inch rings.
Place on a serving plater.