World's Best Tabbouli / Tabouli / Tabbouleh / Tabouleh Salad
Krylela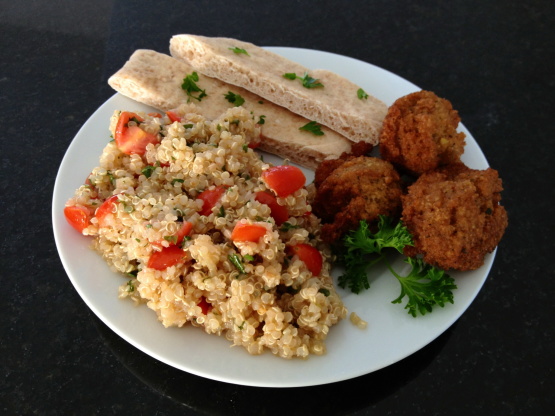 This was one of the most popular dishes at Nancy Mehagian's vegetarian restaurant on the island of Ibiza and she shared it in her book "Siren's Feast: An Edible Odyssey". There are two secret (and essential) ingredients in this recipe - fine bulgur (which has the added benefit of cooking quickly) and tamari soy sauce. This really is the best tabbouleh you will ever make! Dish should be chilled before serving.

This recipe totally lives up to its name. The best! I made it with Quinoa instead of bulgar wheat and it was FABULOUS. I just prepared one cup of dry organic Quinoa per the packaging instructions and proceeded as stated. I kept all of the veggies and other ingredients the same as I think Quinoa poofs up a bit more than the bulgar wheat. Plus I like lots of stuff in my salad. I eased up by just a bit on the olive oil and red wind vinegar but I don't think the whole amount would make much difference. Also, I used about 4 parts parsley to 1-2 parts mint which I got from my garden and is stronger than the stuff you buy in the store. I probably had at least a full 3/4 cup of parsley when chopped. To me, it is hard to determine how much "one bunch" is, so that's how I handled it. GREAT, GREAT recipe. Seriously the best Tabouleh Salad I have ever made.
Place bulgur in a large mixing bowl. Cover with boiling water and let stand 5 to 10 minutes, then fluff grains with a wooden spoon.
Add onions, parsley, mint, and tomatoes and mix well.
Finally, add the rest of the ingredients one at a time. Mix thoroughly. Chill in the refrigerator and toss once again before serving.