Wild Rice Salad With Figs - Rutherford Grill, Napa Valley
Debbwl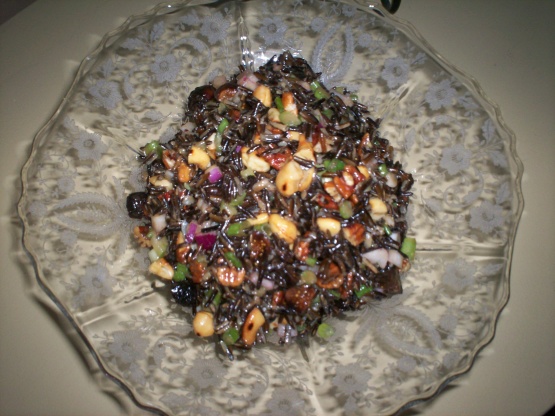 Delicious wild rice salad with figs, pecans and cashews. Bon Appetit, March 1996.

Living in Sonoma County, we frequent the Rutherford Grill and always order this salad with our meal. It's absolutely fabulous. I use champagne vinegar instead of balsamic as I learned this secret from our server.
Combine 4 cups water and salt in medium saucepan and bring to a boil.
Add rice. Reduce heat to medium-low, cover and simmer until rice is tender, about 45 minutes. Drain well. Cool.
Transfer rice to large bowl. Mix in figs, pecans, cashews, green onions, celery and red onion. (Can be prepared 1 day ahead. Cover and refrigerate.).
Mix vinegar, lemon juice, garlic, mustard and sugar in blender. With blender running, gradually mix in both oils.
Pour dressing over rice mixture and toss. Season salad with salt and pepper.