CandyTX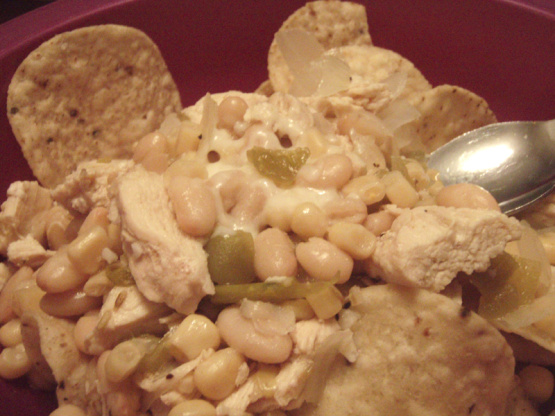 This is a great winter chili that everyone will love. My neighbors kids love it so much they eat it for breakfast! Super easy and so delicious.

Very good, though the flavors didn't really pop until we added liberal amounts of salt, pepper, and fresh-squeezed lemon juice at the table. I used dried beans and fresh corn and anaheim and jalapeno peppers rather than canned or frozen. Served with jack cheese, tortilla chips, and avocado slices.
Mix water, lemon pepper and cumin seed in large saucepan and heat to a boil.
Add chicken breast halves, reduce heat to low, cover and simmer until chicken is fork tender and juices run clear, about 20-25 minutes.
Remove chicken from pot and cut into 1 inch pieces.
Add chicken back to liquid in saucepan.
Heat olive oil in skillet and cook onions and garlic for a minute or two and then add to saucepan with the chicken.
Stir in corn, green chilies, ground cumin and lime juice and heat to a boil.
Add beans and cook until thoroughly heated.
To serve- place crushed tortilla chips and some shredded cheese into each bowl and ladle hot soup over them.