Waldorf Astoria Beef Stew
Ingy1171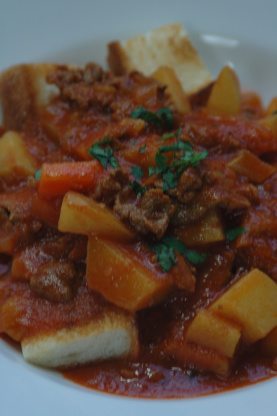 I have tinkered with this, adding a little spicier pepper, but all love it, and it's a no brainer to make because you don't have to brown the meat. Got the basics from the "Best of the Best of Great Plains" cookbook.

A great beef stew! I can't find tapioca in Japan so I finished the stew off with a beurre manier to thicken it slightly. I made a few changes to suit my tastes - I added a tablespoon of worschestershire sauce and a sprig of fresh thyme during cooking. I served this with homemade garlic croutons. Fantastic!
Throw this all together in a large dutch oven and cook, covered in slow oven, 250, for 5 hours.