Waldorf-Astoria Red Velvet Cake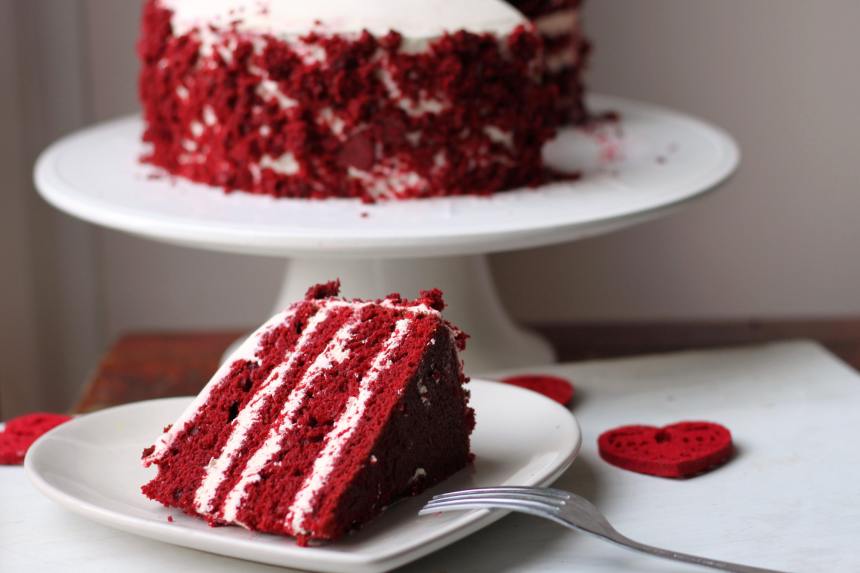 photo by Swirling F.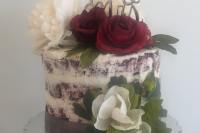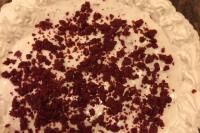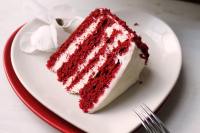 Ready In:

45mins

Ingredients:

16
directions
Cream shortening, sugar and eggs.
Make a paste of food coloring and cocoa.
Add to creamed mixture.
Add buttermilk alternating with flour and salt.
Add vanilla.
Add soda to vinegar, and blend into the batter.
Pour into 3 or 4 greased and floured 8" cake pans.
Bake at 350°F for 24-30 minutes.
Split layers fill and frost with the following frosting.
Frosting: Add milk to flour slowly, avoiding lumps.
Cook flour and milk until very thick, stirring constantly.
Cool completely.
Cream sugar, butter and vanilla until fluffy.
Add to cooked mixture.
Beat, high speed, until very fluffy.
Looks and tastes like whipped cream.
Questions & Replies

Reviews
This cake is a time consuming recipe. I've made it dozens of times from a recipe (exact) that didn't give the Waldorf credit. It is delicious. The icing has a wonderful flavor that does not compete with the rich, but delicate chocolate cake. If you are a red velvet fan-This is the Gold Medal of all Red Velvets.

 

1st of all - thank you troyh for posting this recipe. It was published in our local newspaper back in the 70's when I was 7. We tried it; loved it; lost the recipe. It has always been my most favorite cake ever! Okay, now on to some other things about what previous people said. A) It really is granulated sugar, not confectioners. It will dissolve if you whip it properly. It will be grainy until after you add the flour/milk paste - that it when it really smooths out. B) Definately use fresh cake flour. If it's been in the cabinet for 6 months, go buy some new. C) This is not a chocolate cake - it is red velvet cake, named not only for the color, but the unique taste. Don't expect a chocolate cake just because their is cocoa in the recipe. D) Make sure your flour/milk paste is smooth - lumps will kill your frosting. Trying sifting the flour as you stir it in to the milk. I found that to help. E) If you found the cake to be dry, it was overcooked. This cake recipe is tried and true but very sensitive. F) Serve this cake slightly cooler than room temperature - it really brings out the flavor of both the cake and the frosting. G) The amount of frosting is usually sufficient for most. It makes enough to fully frost and fill an 8 inch round moderately. If you like a really thick layer, double the recipe. Made properly, this cake is AMAZING! NOTE: If you really want to replicate what the Waldorf does, find some edible gold leaf and top off your cake with a bit of sparkle!

 

This cake is to die for! I made this cake and also made mini red velvet cupcakes for my Birthday and my family and friends loved them. The cake is so moist, with a wonderfully delicate chocolate flavor, and not too sweet. I did change the recipe a little, for any Aussies out there instead of shortening, I used full cream Tasmanian butter, and for the colouring, I used Queens Pillar Box Red, 25mls (1/2 bottle) which I added to the milk. I also sifted the cocoa in with the flour and salt, it makes for a much lighter batter and fluffier cake. An excellent recipe, definitely one to keep.

 
Tweaks
The cake is delicious. It's not difficult at all to make and not time consuming. I used 1/2 cup of butter instead of shortening and one ounce of red food coloring instead of 2 at the suggestion of other viewers. The cake was very moist. Do not overbake it. <br/><br/>NOW for the frosting. It tasted a lot like Dream Whip Whipped Topping ( it is a powder you mix with milk) and I didn't care for it. My mom made it a lot when I was growing up. My family didn't like the Frosting either. Because of the milk in the frosting, I refrigerated the cake because I was afraid it would spoil. And it seemed the icing became heavy instead of light and fluffy like when I first made it. It's also time consuming. If you do decide to make the icing, double it. I used 1 1/2 times the recipe, but I really stretched it to cover all 3 layers and the sides. <br/><br/>My family said that next time I make this, they want me to use buttercream icing. That's why I rated this 4 stars - because of the frosting.

 

This exact recipe has been a favorite of my family's since my grandmother used to make it. It was only made for Christmas making it even more special. Ours was always four layers of delight. It is best kept & served cold. I just made it using butter instead of Crisco and do not recommend it. It was too dry - use crisco!!Ahh...the memories!

 

PERFECT recipe! I have never liked Red Velvet Cake. It's the thought of all of that dye. Yuck! So I used Wilton gel food coloring and it became a deep red with just a tiny bit. I also subbed butter for the shortening. <br/><br/>I made sure to pull this out as soon as it was done and it was extremely moist! Those saying it was dry may want to pull it sooner or check their oven temp with a thermometer (most ovens are at least 25* off unless you get them professionally calibrated).<br/><br/>I used Alton Brown's Cream Cheese Frosting recipe and it could not have been a better pairing!