Bergy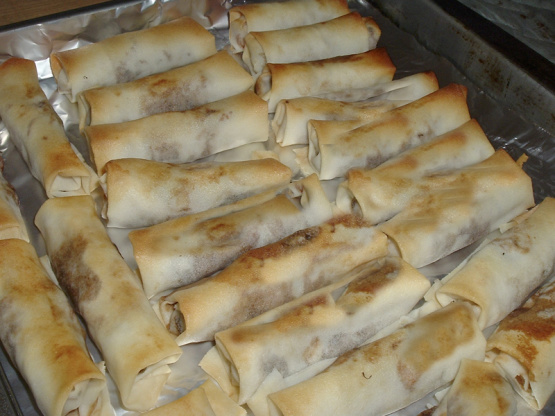 All veggie spring rolls are a great side dish or appetizer. I like to dip them in sweet & sour sauce. DELICIOUS!

The filling was very good. I could not find spring roll wraps (small town living) and did not want egg roll wraps (I'm a vegan) so I tried to be creative and rolled these in Nori. Interesting. Still very flavorful especially with the plum sauce, but I can't wait until I can make these again with spring roll wraps! Thanks for a great recipe!
Update: I found the spring roll wrappers and the spring rolls were exceptional! I made 15 fairly large ones. Eat some now - freeze some for later.
Cut up all veggies into small pieces (thinly sliced).
In large pan or wok heat up veg. oil and add mushrooms and ginger. After a minute, add rest of veggies. Cook for 2-3 minute
Add sesame oil, soy sauce, sugar, salt and pepper, to taste. Cook another 3 minutes.
Remove from heat.
Take a wrapper, use fingers to moisten the edge with water, lay the wrapper in a diamond shape and place veg mixture in middle.
Fold up bottom, sides and then roll up to the top (use enough water to seal).
I bake mine in a cake pan that has been greased with some oil spritzed on top, 400 degrees for 10-15 min (until brown), but you could steam or fry.