Vietnamese Spring Rolls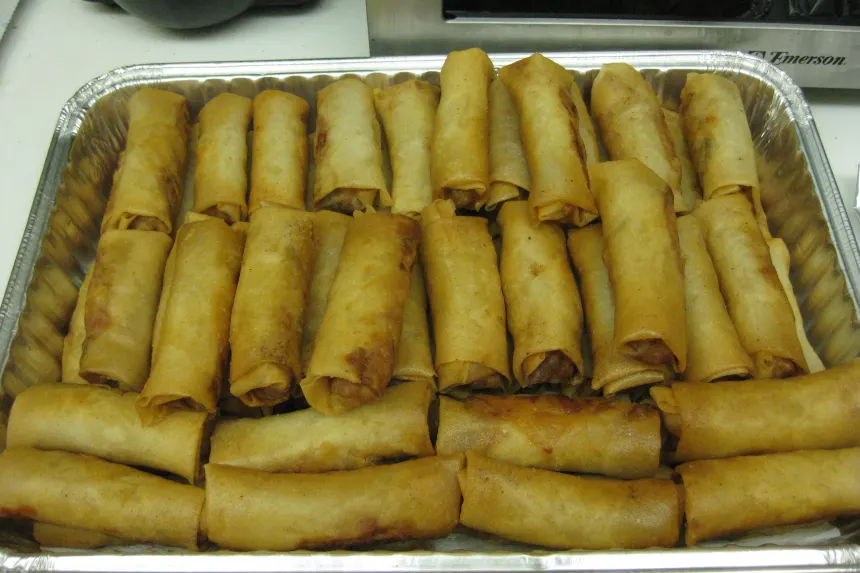 photo by aznbbdoll

Ready In:

1hr

Ingredients:

15
ingredients
1

lb ground pork

1

(4 ounce) package rice vermicelli, soaked in cold water for 15 minutes,drained and chopped

1

egg

1

green onion, minced

1

small onion, minced

2

cloves garlic, mashed
1⁄4 cup finely grated carrot
1⁄4 cup finely grated cabbage (optional)
1⁄2 cup bean sprouts

3

tablespoons cilantro, chopped

2

tablespoons white wine

20

spring roll wrappers (I like the frozen ones, though the dry rice wraps are good too, just more difficult to work with)

oil (for frying)
directions
Combine all ingredients except wraps and oil in a bowl.
On a damp tea towel, place a wrap, and fill with a couple of tablespoons of the pork mixture in a sausage like shape at one end of the wrap.
Fold sides in, then begin rolling spring roll at the mixture side.
Seal roll by moistening edge with water.
Heat oil over medium-high heat.
Fry rolls, turning frequently until cooked through and golden, about 5-7 minutes.
Drain on paper towels, and serve with Spring Roll Sauce (Nuoc Mam).
Keep warm in heated oven.
Note: The spring rolls may be made ahead, and frozen, and then fried when thawed.
Spring rolls may be kept in fridge until ready to fry too, up to a day or two in advance.
Ground chicken may be substituted for the pork, and chopped shrimp may also be added for a special flavor combination.
Reviews
I have been looking for a good vietnamese spring roll recipe ever since I had some at this fantastic vietnamese place near where I live. This recipe is SO incredibly close to the ones from the restaurant. The only thing different I did was I ground up a package of shrimp in the food processor and added it in with the ground pork and also added in some lemongrass because the ones I had at the restaurant had ground shrimp and lemongrass in them. I also tried to replicate the sauce from the restaurant which was pretty easy and althought didnt seem great while I was making it, it really went fantastic with the rolls. (the sauce I made was 1 minced chili, 1 clove of minced garlic, 4-5 tbsp of sugar, 2/3 cup water, 1 tbsp of very finely shredded carrots, 1 1/2 tbsp of fresh lime juice, and 5 tbsp of fish sauce...the fish sauce is something Id never heard of before, but after digging a little I found it in the asian section of our grocery store. It comes in a small bottle, is orangy-brown and very watery. It stinks and tasted TERRIBLE on its own but when mixed with the above ingredients it makes a fantastic sauce.) Thanks for posting this recipe. everyone I made it for thought it was absolutely fantastic. I make it all the time. The first time I made it I used the rice papers, which I found did not fry evenly and didnt go crispy like the spring roll wrappers do. After that I only use the spring roll wrappers. I could only find these in a tiny asian store that I came across. None of the grocery stores where I live sell them. Thanks again. This is one of my favorites!

 

I love these egg rolls! I make them fairly often and freeze after frying for a quick snack, I just pull them out, defrost and bake them until hot. I love dipping them in Thai Red Chili Sauce. I always vary the ingredients depending on what I have in the kitchen, usually just making veggie egg rolls, but shrimp is also wonderful. I have a difficult time sealing the edges so that no oil enters, but I am getting better at it with practice. One caution: if you have fingernails be very carefull, the wrappers puncture very easily. When this happens I just sprinkle a little water on and pinch to seal. Thanks a lot!

 
Tweaks
Wow! These taste unbelievable! I made mine with the frozen wrappers and they were stretchy, strong and very easy to use. (Great tip, thank you SOOOOOOOOo MUCH! I used to make fresh rolls with the dry kind and had to throw half away because I couldn't handle them). I bought both large and small wrappers and actually prefer the smaller ones because the crunchy wrapper complements the innards so well. I used 25 large and about 8 small ones with the filling. I substituted ground chicken and chopped shrimp for the pork and did add in the cabbage. I sealed my ends with eggwhite and had no trouble with unwrapping. I served these with Spring roll Sauce from the store (orangy color with shredded carrots in it) and DH went crazy for them. I have frozen 14 of them and can't wait to enjoy them again in the future! Thanks so much.

 

Wonderful! I used shrimp and crab instead of pork, but followed every other direction to the letter. I'm so proud I made this! I had enough left over mixture to fill up 10 more rolls though, which was good, because that means I get to eat more! I served this with Lo Mein and spinach egg drop soup. I also made your Nuoc Cham sauce to go with it. You're amazing Bratty Brat!