Veggie and Pepperoni Pizza
Redsie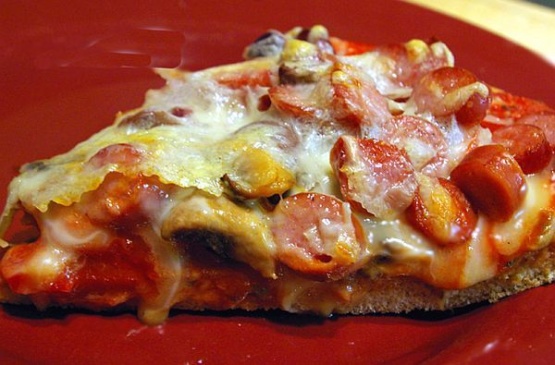 I am searching for a healthier pizza, and this is my first step towards one. I plan on using turkey pepperoni and a whole wheat crust in the future, but this pizza turned out really well. My family really liked it. I recommend the pizza sauce that I posted as a separate recipe for this pizza because it throws in some extra veggies in the sauce.

I was looking for a recipe to pretty much tell me what temp and how long, but this helped also with where to put the ingredients, because I have been putting the veggies on top. This was much better and was eaten up in a hurry. I halved the recipe and left out the tomatoes and red bell pepper, because I didn't have any. Also added in some sliced black olives and banana peppers on part for my son. Thanks for the great instructions!
Preheat the oven to 450.
Spread the pepperoni between two paper towels and blot to remove the excess grease.
Brush the olive oil over the pizza crusts and cover with the pizza sauce.
Next add the cheese, pepperoni, and tomatoes in that order.
Finally topped with the chopped vegetables.
Place pizzas on pizza stones or pizza pans. These really work better than cookie sheets.
Change the oven temperature to 425 before putting the pizzas in the oven.
Bake until the crust is a golden brown. About 15 minutes.