Vegetarian Meatloaf - Healthy
Kitty Z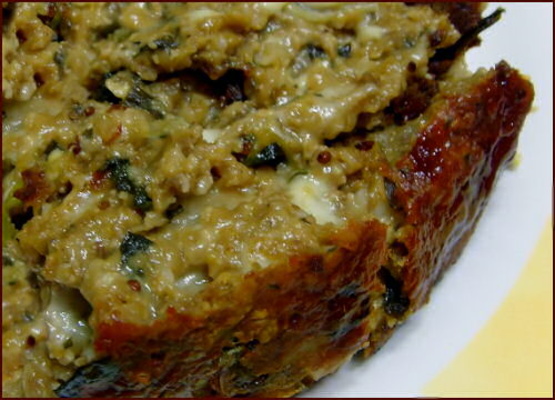 This meatloaf is as good or better than the "animal protein" version, but with cholesterol levels as they are this vegetarian version is good tasting and good for you. I really enjoyed this as a meatloaf sandwich. This is a variation of a vegan recipe I found in a vegetarian magazine.

I don't like to mess with anyone's recipe, especially when I am making it for the first time. However, I thought I had feta in the fridge, but I didn't. Instead, I small cubed 8 ounces of mozzarella. I did everything else exactly as stated and it came out really good! In fact, my wife and I think it's the best vegetarian meatloaf we ever had! The consistency came out very close to actual "carnivore" meat loaf. The blend of the flavors of the ketchup, mustard and soy sauce was perfect, giving it a bit of a barbecue taste. This recipe is a keeper! Thanks for posting.
Preheat Oven to 350°F.
Grind walnuts to powder and set aside.
Sauté celery, onion, green onion and garlic over medium heat until tender about 4 minutes.
Remove veggies from heat and let cool while you do the following steps.
Mash tofu in a bowl and stir in walnuts, feta, oats, soy sauce, ketchup, mustard, parsley, and poultry seasoning.
Once mixed stir in veggies.
Season with salt and pepper.
Coat 9X5in loaf pan with cooking spray.
Add mixture and pack in tightly.
Top with a thin coat of ketchup.
Bake for 55 minutes.