Really Good Vegetarian Meatloaf (Really!)
photo by Izy Hossack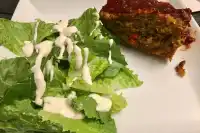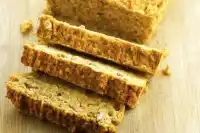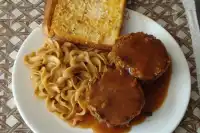 Ready In:

1hr 25mins

Ingredients:

13
directions
Add salt to water and boil in a saucepan.
Add lentils and simmer covered 25-30 minutes, until lentils are soft and most of water is evaporated.
Remove from fire.
Drain and partially mash lentils.
Scrape into mixing bowl and allow to cool slightly.
Stir in onion, oats and cheese until mixed.
Add egg, tomato sauce, garlic, basil, parsley, seasoning salt and pepper.
Mix well.
Spoon into loaf pan that has been generously sprayed with Pam (non-stick cooking spray) or well-greased.
Smooth top with back of spoon.
Bake at 350 degrees for 30- 45 minutes until top of loaf is dry, firm and golden brown.
Cool in pan on rack for about 10 minutes.
Run a sharp knife around edges of pan then turn out loaf onto serving platter.
Questions & Replies

Reviews
I have made this about 5 times now. Every time it's happily eaten by vegetarians and carnivores alike. When I mash the lentils I use my blender and add water to get a mashed potato like consistency. I think this is why it turns out a little more moist. It also helps to put some sauce over the top when you have about twenty minutes left in cooking it. Thank you for the recipe. <br/>Update: Since writing this review I have tried the following things and they have turned out great.<br/>1.) I've occasionally added another egg, although I felt guilty about the extra fat. <br/>2.) I've added chopped celery,carrots, mushrooms as suggested by other reviewers. <br/>3.) In addition, and sometimes in place of the cheddar cheese , I added Parmesan cheese. <br/>4.) Per suggestion of my girlfriend, I use a hand mixer instead of the blender now. She said she preferred some lentils still in tact for texture. I usually cook the lentils until they are very easy to smash, so that the mixer can handle the load.<br/>I just thought I'd share how versatile and forgiving this recipe is.

 

This is fantastic! I had to add a LOT more water (4 cups total) to get thing to come out right, but I'm using brown lentils (lots more fiber) and old fashioned rolled oats, not quick oats, so that may be the reason. I made some substitutions (like most other folks): I went vegan, replacing the eggs with milled flax seed & water and omitting the cheese, swapped 2/3rds cup ketchup for the spaghetti sauce, a small dash of extra virgin olive oil to help retain moisture in the fridge, and used "Italian Seasoning Mix" instead of just dried oregano (this was all on my second batch). Meatloaf is one thing I've hesitated to make since going vegetarian because I love "real" meatloaf so much, but this is better than any "real" meatloaf I've had (don't tell Mama!). This recipe would also probably hold up good enough to make meatballs or even crumbled "beef" replacement for other things ... probably wouldn't hold up too well in chili unless you add it just before serving, but would probably work for other things like no-meat Hamburger Helper. I'll try it out in those other areas ... if it works, that would be great, a much more reasonably priced beef alternative than the pre-packaged stuff.

 
Tweaks
Followed everyone else's advice with adding extra veggies and breading. This is a very forgiving recipe, so you can eyeball everything and taste before you add the eggs (add eggs last): 1/4 cup carrots, 1/4 cup celery, 1 regular sized package of mushrooms - cut up into small pieces, 2 teaspoons of minced garlic instead of garlic powder, and some red wine. I sauteed these veggies until caramelized. Lentils we're boiled in beef broth. Added 1/2 cup of breadcrumbs to the oats. Doubled the spices and egg (b/c I added more veggies), and removed the salt since the beef broth was salty enough. Finally, I smothered it in homemade BBQ sauce. I should've followed someone's advice about adding more water to my brown lentils (apparently green lentils are different from brown lentils - I did not know..), but I didn't, so it made it rly difficult to mash the lentils. Hope it helps!

 

I added ingredients to this to make it more similar to the regular meatloaf I make. I added a half package of white mushrooms, chopped in a processor. Quarter cup of shredded carrots, chopped in a processor. Half cup of italian seasoned bread crumbs. Subbed 8 oz. roma tomato puree for the spag sauce. Added a quarter cup of ketchup. Added a 2nd egg. Added a quarter cup of heavy cream. Made a basic ketchup, apple cider vinegar, brown sugar sauce to serve with. Everyone dug it.

 
RECIPE SUBMITTED BY
I'm a stay home mom of two little boys. My husband is a meat and potatoes kinda guy, my little fellas will eat anything, and I'm a vegetarian. One of my favorite things to do is sit and read a cookbook from cover to cover! My favorite cookbooks are ones with pictures of all the dishes.
View Full Profile