Vegan Baked Beans a La Crock Pot
Katzen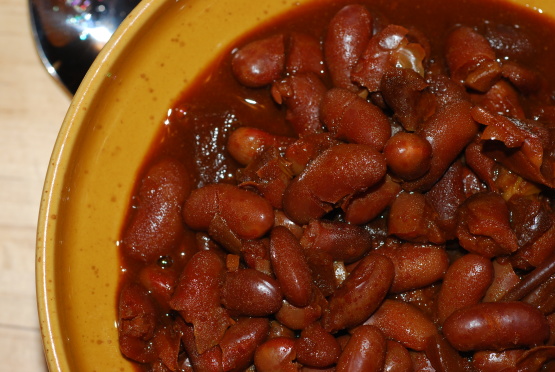 At the time I'm posting this there are two other vegan baked bean recipes on the Zaar, both look really good. I didn't find one for the crock pot however, using dried beans and no tomatoes.....so hopefully this fits that bill for someone else out there! I found the recipe online - http://www.beanbible.com. There are only a few things I tweaked, one being Bakon yeast. Unfortunately not something I'm at all familiar with or have ever seen in the stores, but I found out a little more about it and replaced it with some nutritional yeast & liquid smoke. Adjust the heat as you wish. NOTE: Soak the beans ahead of time (night before). The cooking time doesn't reflect the overnight soaking of the beans, but it does reflect the crock pot cooking time if set to low. Hope you enjoy!

Top Review by Katzen
We really enjoyed this dish - the long cooking time tranformed the beans into a dark, rich, and wonderful meal. I didn't change a thing - and wouldn't next time, either! I put the onions in with the garlic, as the recipe didn't indicated when to add them, and that worked fine. Thanks for another winner, magpie! Made for Veggie Swap 22.
Night before: Soak the beans in plenty of water.
When you're ready to get the crock pot going, drain the beans then add them to a large pot on the stove. Cover them with fresh water and bring to a boil, boil for 15 minutes and then drain.
While the beans are boiling, mix together the molasses, sugar, mustard powder, cayenne, nutritional yeast, liquid smoke and braggs/tamari in a bowl.
Turn your crock pot to low. Add in the par-boiled beans, the molasses mixture, onion, garlic, salt and pepper. Stir well to combine. Add enough water to just cover the beans, stir again. Lastly, add in the bay leaves.
Cook on low until beans are very soft, about 8 hours. Check periodically and add more water if need be - you don't want it to dry out, and all depending on your crock pot -- it could. Adjust seasoning to your taste. Enjoy with some crusty bread and a salad!