Unstuffed Green Pepper Soup
Karen R.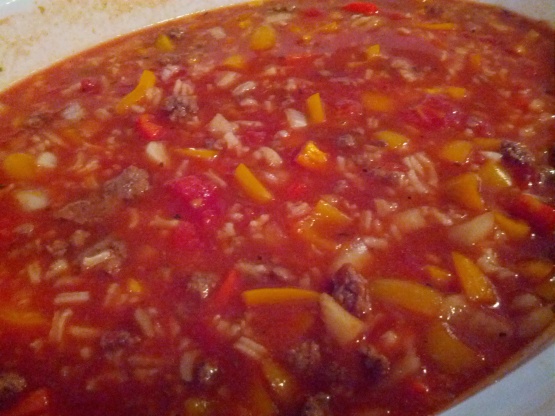 This was a little bland, but if you're not worried about sodium, a bit of salt made it fabulous! 8 (1 cup) servings: 144 calories, 21 g carbs, 11 g protein, 1 g fat, 15 mg cholesterol, 3 g fiber, 92 mg sodium.

I tried this because I had a bag of mini sweet peppers to use up. I ended up deviating a bit more than planned after discovering I didn't have any stewed tomatoes. Instead I used a can of Italian-seasoned diced tomatoes plus a can of tomato soup. I agree that it needed salt, added about a teaspoon to the pot and it turned out delicious
Put all ingredients except rice into crockpot.
Stir until well mixed & cover.
Cook on low 8-10 hours or on high 4-5 hours. Before serving stir in rice.
Cover & let sit five minutes.