Tyler's Ultimate Pot Roast
dojemi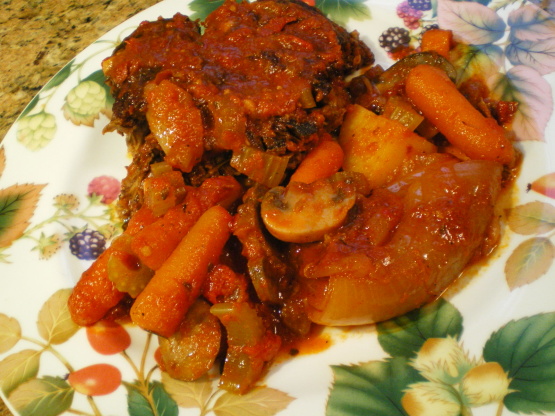 I watched him making this pot roast a couple of weeks ago and the end result looked amazing I just had to try it. This is total comfort food.

I am a big Tyler's Ultimate fan. This pot roast recipe never fails and I cook it on the stove and in a slow cooker. My family loves it and I make some changes to suit our tastes. I use thyme but no or very little rosemary. We love rosemary with pork but not so much with beef and a red sauce. I add some potatoes because we love them in pot roast and feel free to add red wine if you like the flavor. If I have mushrooms I add them but it's great without, also. Enjoy, we do!
Season all sides of the beef with a fair amount of salt and pepper.
In a large Dutch oven or other heavy pot that has a tight cover; heat 2 tablespoons of the oil over moderately high heat.
Brown the meat on all sides, taking the time to get a nice crust on the outside.
Pour in the tomatoes and the water.
Scatter the vegetables and herbs around the pot roast, season with salt and pepper; and drizzle with the remaining tablespoon of oil.
Cover the pot and reduce the heat to low.
Braise for about 3 hours, basting every 30 minutes with the pan juices, until the beef is fork tender.
Slice the pot roast and arrange on platter surrounded by the vegetables.
Serve with the pot juices.