Tuscan Pork Chops (Or Chicken) With Rosemary
Barb G.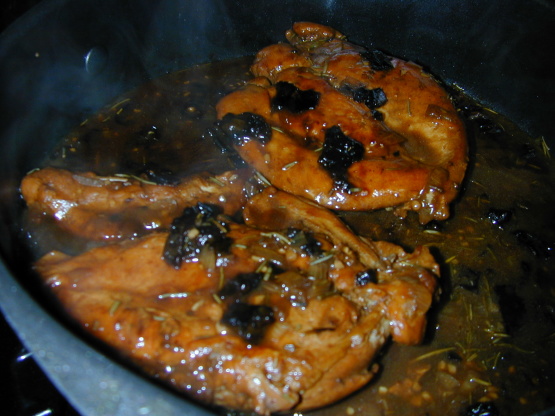 I just love this sauce, and it is so easy to put together, too. Though I haven't tried it with chicken yet, I think it would be great with 4 chicken breast fillets substituted for the pork chops--simply increase the simmering time (in step number 6).

This recipe was very easy to make. Other than using bone-in chops, I did not alter the recipe at all. The prep was minimal, which was good for a weeknight. We liked the sauce, but maybe not enough to make again. Thanks!
In a small saucepan, cover the sun-dried tomato pieces with chicken broth and madeira; bring to a boil, remove from heat and allow to stand about 10 minutes to plump the tomatoes.
Heat the olive oil in a large non-stick skillet over medium-heat.
Add the pork chops and brown on both sides; remove from skillet and set aside.
Add shallots and garlic to the skillet and cook briefly (till they become fragrant).
Stir in tomatoes with the liquid and chopped rosemary.
Return the chops to the skillet, cover tightly and cook over low heat (just simmering) for 5 to 6 minutes (longer as needed for chicken breasts) until they are cooked through.
Remove the meat from the skillet to serving platter.
Combine water and cornstarch; add to the skillet.
Cook over medium heat, stirring constantly, until the sauce thickens.
Top the meat with the sauce and serve.