Turkey Mini-Meatloaves With Roasted Root Veggies
WiGal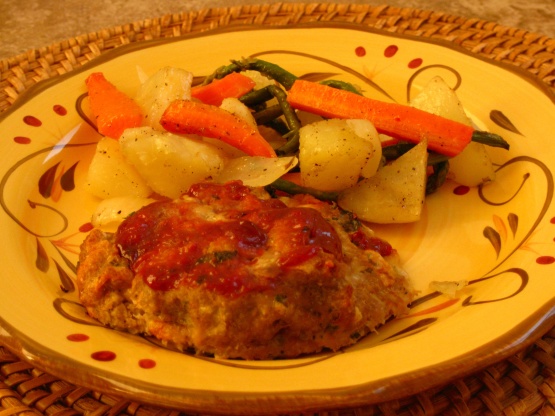 I found these individual mini-meatloaves with roasted veggies on Cook Yourself Thin. I love turkey anyway, but this just looks to die for!! I can't wait to make it! Calories per serving, meatloaves: 227 Calories per serving, roasted root veggies: 121 **Cooking time is slightly shorter for the veggies - see below. Meal should be done at the same time just not enter oven at the exact same time.
Top Review by PaulaG
This was a big hit! The meatloaf was moist and delicious. I used 5 oz of frozen chopped spinach which had been squeezed dry. I did add in a sliced onion and a several garlic cloves to the roasted vegetables. The timing on the meatloaf was perfect; however, the vegetables took more time and ended up being cooked the last few minutes in the microwave. A delicious meal that is healthy and economical. Made in support of Mommy Diva.
Preheat oven to 375 degrees. Arrange oven racks to accommodate two dishes being cooked simultaneously.
Grind the bread in a food processor until fine crumbs form. Transfer to a large bowl, and pour milk over crumbs.
Heat 1 teaspoon oil in a large skillet, preferably nonstick, over medium heat. Add onion and cook, stirring occasionally, until softened and golden, about 5 minutes. Add spinach, and stir until just wilted, about 30 seconds. Transfer to bowl with soaked crumbs. Add the turkey, cheese, egg, salt, pepper and nutmeg. Combine the mixture with your hands until well mixed; it will be quite wet.
Pack 1 cup of the mixture into a 1-cup dry measuring cup. Invert the cup onto a rimmed baking sheet, gently shaking the cup to release the mixture. Gently pat the mound to smooth its shape. Repeat three times with remaining mixture. Bake mini meatloaves until cooked through and golden, about 40 minutes.
While the meatloaves are cooking, make the glaze: In a small bowl combine the ketchup, Worcestershire sauce and hot sauce. Brush over meatloaves.
To make the roasted root vegetables: On a baking sheet, toss all the vegetables in the olive oil, and season with salt and pepper. Add to the oven along with the meatloaves and roast for 30 to 35 minutes, stirring midway through baking. Remove from the oven and sprinkle with fresh herbs.