Tunisian Potato & Olive Salad
Prep 15 mins
Cook 20 mins

Posting for ZWT 2006 this is an appetizer or cold side dish. Sounds nicely spiced and very interesting. I would think the spices in this could be played with a little bit.
Directions
Place the potatoes in a pot with water to cover; add 1 teaspoon salt and the sugar.
Bring to a boil over high heat then reduce heat and simmer for about 15 minutes, or until the potatoes are tender.
Drain the potatoes, return them to the pan and shake in the dry pan for a few minutes, until thoroughly dry.
Cut the potatoes into thick slices, several per potato, or into quarters.
Place in a bowl and toss with the cumin, paprika, cayenne, garlic and olives.
Dress with the olive oil, lemon juice and salt; refrigerate until ready to serve, or serve at room temperature.
Reviews
Most Helpful
I doubt that I had a full pound of potatoes but I used the full amount of dressing mix and it was all absorbed by the spuds. The seasoning seemed sharp when first mixed but a few hrs later everything was getting along very well and the overall flavor was more rich and full than sharp. I really like the kalamata usage here and will add fresh chopped parsley at serving time this evening. I should also mention that I didn't add any sugar or sweetener for personal preference.

Really outstanding. The cumin, cayenne and garlic were a perfect blend of spices and combined very well with the Kalamata olives. I didn't lower the amount of oil like I usually do and found it a little on the oily (and fattening:D) side so next time I make this dish I will reduce the oil. Certainly didn't detract from the taste, though. Very impressive. Going into my outstanding but easy cookbook. Thanks Janet!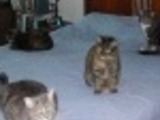 The olives and lemon are really good in this. I used much less cayenne and half of a huge Meyer lemon. We ate this as a side dish and it served three (at the most).