Tunisian Fish Stew With Potatoes
JustJanS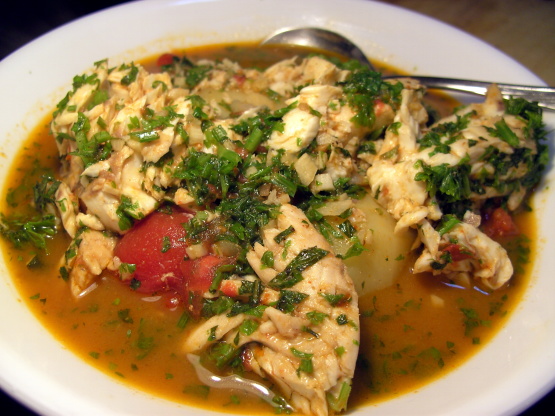 There are fish stews with potatoes and tomatoes in every country around the Mediterranean. This one is herby, aromatic and slightly peppery. To balance the flavours, start with just a little harissa or chili powder and add more later if you wish. Use any white fish such as hake, cod, haddock or turbot and serve with some toasted bread.

Nic, we were blown away by this one. I made it using home made Recipe #379321 (made using fish we caught) and fresh fish caught this afternoon about 3 hours before dinner. We bought the tomatoes,herbs and lemons at a farm gate so quite a special dish. I used more harissa than you suggested and just a big handful of parsley (not sure of the weight). We spent all dinner oohing and ahhing at the wonderful flavours and deciding who we love enough to make it for when we get home. We are currently catching enough fish to eat it everyday (thank goodness for our freezer) so this one will be made again really soon and I'll be making more fish stock to do so!
Put all the ingredients except the oil, fish and herbs in a pan with the water or chicken broth. Simmer for 25 minutes or until the potatoes are tender.
Stir in the extra virgin olive oil and add the fish.
Cook for another 10 minutes, then gently break up the fillets into smaller pieces and add the herbs.
Season and serve.