The Ultimate Black Forest Cheesecake
Pamela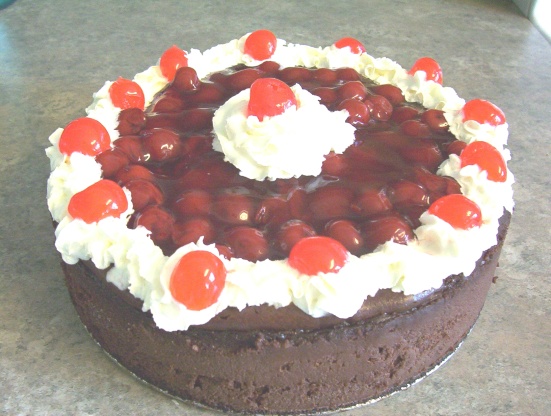 This is from the Company's Coming "Chocolate Everything" Cookbook. It is the creamiest, melt in your mouth delicious dessert you have ever tasted! Time does not include chill time.
It tasted amazing. I think the whipping cream should jave been whipped before putting into the cheese cake. The cake tasted wonderful but this is the first one i have made that feel apart in the center. Like literally just fell apart. Maybe the temperature was off. I don't know why it decided to fall apart but something about the center didnt want to stay. I also noticed a lot of exess water come from the spring form pan. Wonderful taste but needs alteration.
Chocolate Wafer Crust

1 1⁄2 cups chocolate wafer crumbs

2

tablespoons sugar

Filling

4

(8 ounce) packages cream cheese, softened
1 1⁄2 cups sugar

1

cup cocoa, sifted

4

large eggs

1

cup whipping cream

1

teaspoon vanilla
1⁄2 cup maraschino cherry, well drained and finely chopped

Topping

1

(19 ounce) can cherry pie filling

2

cups frozen light whipped dessert topping or 2 cups whipped cream
For the crust: Combine ingredients and press into an ungreased 10 inch springform pan.
Chill.
For the filling: Beat cream cheese and sugar in a large bowl for 5 minutes.
Mix in cocoa.
Beat in eggs one at a time.
Beat for 5 minutes more.
Slowly add whipping cream and vanilla and beat again until well blended.
Fold in cherries.
Pour over cooled crust.
Bake in 325°F oven for 75 minutes or until center is almost set.
Run paring knife around edges to allow cake to settle without cracking.
Cool completely.
For the topping: Spread cherry pie filling on top of cooled cake.
Spoon or pipe topping around edges as desired.
Chill.