The Houstonian's Southwest Caesar Salad
Hey Jude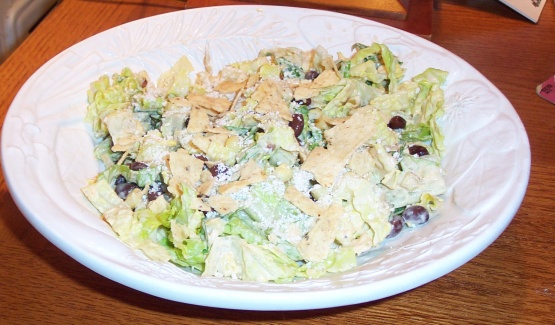 This is posted in response to a request. This salad is absolutely delicious. It's a popular menu item at the Houstonian Hotel.

Our favorite salad at home and at the restaurant. I like to serve it with grilled chicken breasts or grilled shrimp for a one-dish summer supper.
Prepare dressing first.
In the bowl of a food processor, combine yolk, garlic, mustard, anchovies, pepper, salt, coriander, cumin, Worcestershire and water.
Process all until smooth.
With motor running, pour oils in a slow, steady stream into egg mixture.
When all oil has been incorporated, add chili paste, lemon and lime juices and Parmesan.
Process until smooth.
Prepare salad next.
Spin or pat lettuce dry.
Place in large salad bowl.
Add dressing; toss lightly.
Add beans and corn; toss again.
Divide mixture among 4 chilled plates.
Sprinkle with pumpkin seeds and cheese.
Garnish with tortilla chips.