The Healthy Good for You Meatloaf
JustJanS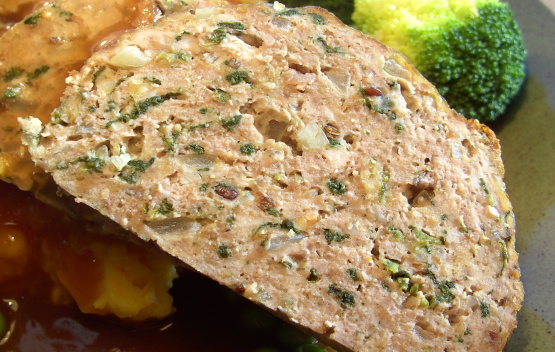 I came up with this recipe in the attempts to make foods healthier and vitamin enriched. As we approach the underbelly of middle age (50's) there is agreement to eat healthier, live longer, and enjoy nature's bounty. However, this is an old fashioned family comfort food for all ages. Meatloaf is not always high on the list of healthy food but I figured I could doctor it up some.. Here is what I came up with. For moms and dads whose children say NOT SPINACH, ewwwwwwweeeeeee this is a great way to get that iron and antioxidant veggie into them. This recipe can also be made in to hamburgers for the BBQ. Very simple to prepare all in 1 dish

Very tasty. I used ground turkey. I usually add some tomato sauce (not ketchup) to my meatloaf and I will try that with this recipe next time. Looking forward to meatloaf sandwiches tomorrow with the leftovers.
1 1⁄2 lbs lean ground beef (or use a combo of lean beef, turkey, pork,chicken or veal)

4

ounces fresh spinach, shredded
1⁄2 teaspoon cumin

2

garlic cloves, minced

1

tablespoon basil

1

teaspoon flavor enhancer (I used Mrs. Dash no salt)

1

medium onion, diced small
3⁄4 cup breadcrumbs (preferrably wheat)

2

medium eggs (1 large)
mix together all ingredients in 2 qt casserole dish.
bake in oven 350 degrees for 1 hour.
enjoy.
for hamburgers: make patties according to size you like. I made 8- 1/4 lb (approx) burgers with above measurements.