CandyTX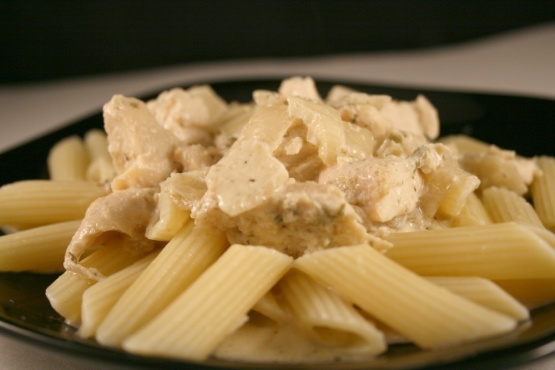 You will love this recipe; it brings Chicken à la King up a notch. You can prepare it the day before, refrigerate and heat it in the microwawe before serving.

The taste of this is really good so I'm giving it 5 stars. The rest of the story... well... Candy (that's me) shouldn't be allowed to cook, much less try to adapt recipes. I chose to make this for the ZWT4 Canadian Crockpot. What? You say it doesn't mention a crockpot in the recipe? Oh! Perfect, you get extra points for adapting one for the crockpot. Heh. Yeah. So, my idea of throw it all in there and see what happens didn't turn out so well because it didn't really make a sauce. (Note: I also left out the red peppers and celery because we were out of celery and I don't like peppers). So, I get the bright idea to take the chicken out and cut it up and then put some corn starch into it to thicken it like a sauce. So, we ended up with chicken a la glue. We had yummy turkey sandwiches for dinner instead. *laugh* Having said all of that, we did taste it a bit before we ruined (we being me, Candy) and it was VERY good. Just, uh... don't try to use it in the crockpot.
Cut the chicken breasts into 1/2-inch cubes.
In a 12-inch skillet, heat the 4 teaspoons of olive oil over medium-high heat.
Add the cubed chicken, garlic, celery and the chopped onion; cook, stirring, until the chicken pieces are golden brown, about 8 minutes.
Stir in the 1/3 cup flour and cook 1 minute, stirring constantly. While stirring, gradually pour in the milk, sherry and chicken broth, and stir to blend.
Stir in parsley, paprika,poultry seasoning,rosemary, salt and pepper. Bring the mixture to a boil and cook, stirring occasionally, until thickened, 7 to 10 minutes. Taste to adjust seasoning.
Meanwhile, in another skillet, sauté red pepper cubes in butter; add to chicken; stir in the cream.
Serve on patty shell, over rice or on toasts.