Thai Red Curry / Coconut Sauce (For Salmon)
Ninna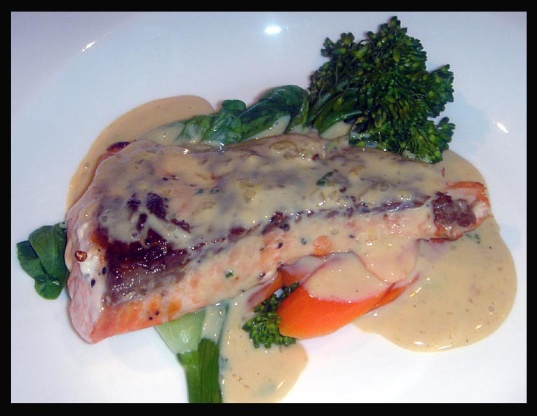 This was in my notes listed as "Sauce to serve with grilled salmon" and I have no idea where I got it but it sounds good. I haven't made it but hope to one day! Maybe you'll beat me to it! Just take salmon and rub with olive oil, season with salt and pepper. Grill or broil and serve with this flavorful sauce.

Top Review by Ninna
This is really outstanding. Although there were only the two of us I used the full recipe so we had heaps of sauce. I was going to cut the recipe in half but I am so glad I didn't it was so good. I used coconut flavoured skim evaporated milk because I had to cut the fat content for DH. I have basil growing but I only managed to get a few small leaves off it. We have salmon a couple of times a week at least and I am always looking for new way to have it. Thanks so much for a really great sauce Oolala I will be keeping this one.
Heat sauce ingredients except for the cornstarch and the basil leaves in a small saucepan.
Taste and adjust to your preferences.
Just before salmon is done, add cornstarch to the sauce with a small amount of water to make a slurry. Stir until it is glossy and coats the back of a spoon.
Stack and roll basil leaves like a small cigar. Sliver them cross-wise into narrow ribbons and drop into the sauce.
Keep sauce warm but be careful not to simmer for a long time.
Serve sauce over the fish with Jasmine or Basmati rice.