teresas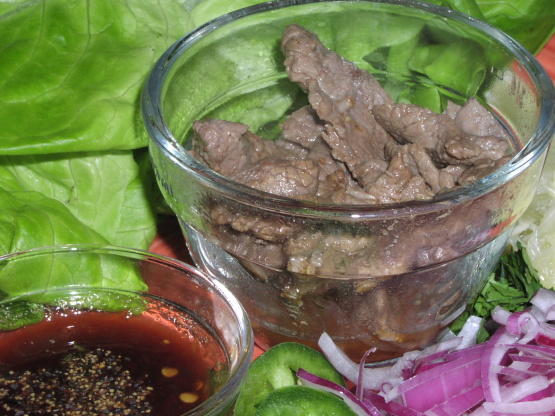 A light, healthy variation on wraps.

Totally enjoyed this dish...I did use a chili paste instead of the sauce and omitted the carrot because I didn't have any...loved the busy part of eating this...I also just heated the sauce in the microwave...I will be making these again...thanks for posting it...:)
Heat a grill or pan over high heat. Season the beef with salt, pepper and place on grill or in pan. Cook on each side for about 4 minutes. It should be firm but yielding to the touch. Let cool for 5 minutes.
Mix chili sauce, fish sauce, and the juice from one lime in a small sauce pan over low heat to form sauce.
Slice the steak thinly. If is skirt or flank, cut against the grain. Drizzle warm sauce over the slices. Set out the beef, lettuce, jalapeño, onion slices, cilantro, and carrots.
Use the lettuce as a wrap, and add beef and toppings. Add some line juice and sauce to wraps as you eat them.