Brenda.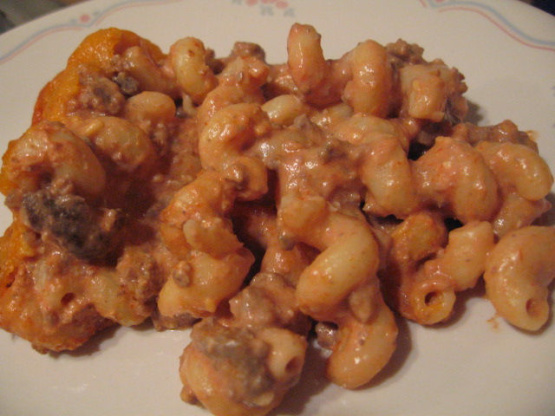 This is a nice, smooth, cream cheese & noodle casserole with a tomato based sauce and was a favorite of mine when I was growing up. Mom says it's been in the family for years! Feel free to tinker with the amounts!

I enjoyed this casserole, although I used spaghetti noodles (it was all I had). I will make again in the future with a different type of noodle as suggested in another review. I used cheddar cheese over the top and feel maybe I should have gone with mozzarella or maybe a mixture of the two instead. The only thing is that it wasn't as creamy as I had hoped it would be when I pulled it out. I either need to bake it for less time or maybe add more cream cheese and sour cream- which I think that adding more cream would be a good idea because I couldn't prominently taste the flavors, but it was still a good dish and I definitely plan to cook it again!
Brown ground beef with onion and garlic, drain.
Mix ground beef mixture, sugar, tomato sauce, sour cream, and cream cheese with hot cooked noodles.
Sprinkle with 1/2 cup grated cheese.
Bake at 350 degrees for 1 hour.