ImPat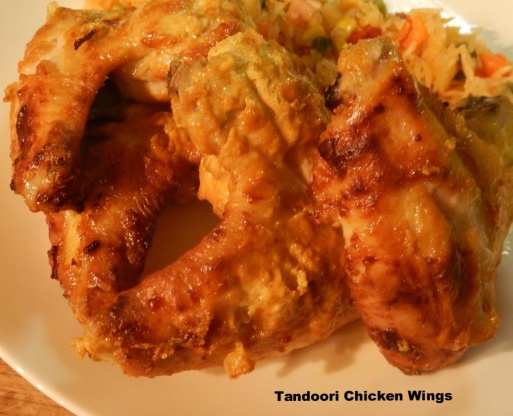 This tandoori chicken wing recipe is done easily in the oven. An adaptation of one of Sara Moulton's recipes. Cook time does not include this marinating time.

Top Review by ImPat
The work in the preparation to make the marinade is definitely well worth it, I had 12 wings with a weight of just over 1.5kilos just over 3 pounds but would have come under than once I cut the wing tips off (makes good stock) and they got the full 8 hours and I baked at 175C fan forced for 45 minutes for really succulent tasting wings thank you LifeIsGood made for http://4foodfriendsandfun.yuku.com/ and for their http://4foodfriendsandfun.yuku.com/topic/286/For-Your-ConsiderationTag-Game#.VNDLLLccSGc game.
Put the onion, ginger, garlic, lime juice, yogurt, vegetable oil, cumin, coriander, salt, cayenne and turmeric in a blender and blend until smooth. Pour the mixture into a resealable plastic bag (or into a bowl) and put in the refrigerator. This can be done the night before. It lets the flavors blend together before the chicken even touches it.
About 8 hours or so before cooking, score each chicken wing at least twice each, about 1/4 inch deep, and then add them to the marinade. Close the bag and knead until the wings are evenly coated with the marinade. Refrigerate them for about 8 hours.
Preheat the oven to 400 degrees F. Place the wings in one layer on a rack on a rimmed baking sheet. Bake for about 25 to 30 minutes. Make sure to turn them halfway through the cooking time. Bake until the chicken is cooked through and done.