Taco Ring (From Pampered Chef)
noreenadsit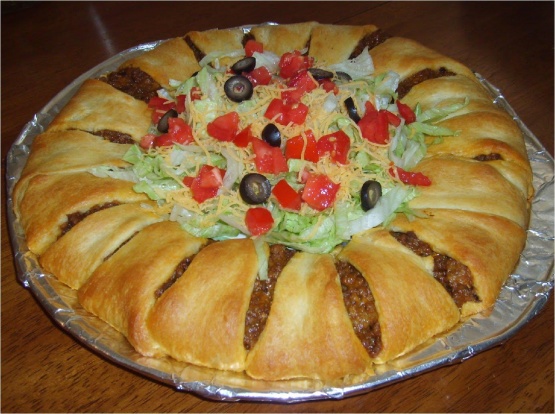 I attended a Pampered Chef party and had this taco ring. I had ate them many times but was always to scared to make one. It's so easy--took me a few times to make it look pretty but it's really simple to do, just experiment around with it. My kids now request these instead of regular tacos. I was out of black olives tonight, so I used green--the toppings are your personal choice really! Makes 16 rolls but we can't eat just one!

The trickiest part was evenly spacing triangles on a round pizza pan. Hopefully sharing how I did it will save others time trying to figure it out themselves. Using the first roll, place triangles at noon, three, six and nine o'clock. Add the remaining four triangles evenly between the first four. Overlap the second roll of triangles between the first eight pieces and press the centers together to allow enough space for the meat mixture. I used Pam and it slid onto a serving plate without issue. We will make this again. The kids loved it! Thanks for sharing.
Cook ground beef in large skillet over medium heat 7-9 minutes or until beef is no longer pink; drain.
Remove pan from heat.
Stir in taco seasoning mix, cheese and water.
Preheat oven to 375°F.
Unroll crescent dough; separate into triangles.
Arrange triangles in a circle on Classic Round Pizza Stone with wide ends overlapping in center and points toward outside. (There should be a 5 inch diameter opening in center.) I use my Pampered Chef pizza stone, but any flat round pan should work--perhaps even a pizza sheet, but I'd spray it with Pam before adding the crescent rolls.
Scoop meat mixture evenly onto widest end of each triangles up over filling and tuck under wide ends of dough at center of ring. (Filling will not be completely covered).
Bake at 20-25 minutes or until golden brown.
Shred lettuce and chop tomato, onion, olives, and bell pepper (if desired).
If you want to do something fancy, scoop out a bell pepper and fill with salsa and put into center of ring.
Add your toppings to top of ring and finish with more shredded cheese and sour cream.
This is great with a salad.