gailanng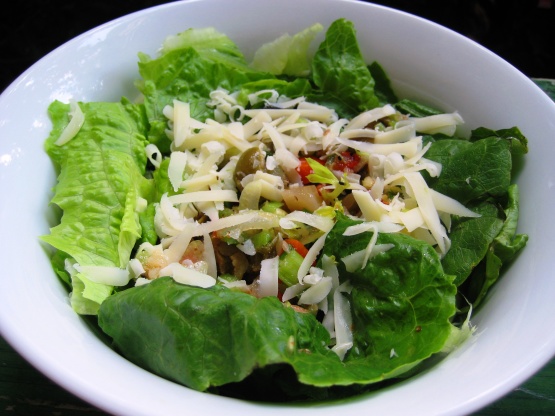 I love salads that can be made ahead of time. This particular salad looks nicer when the lettuce is shredded (taco style). You might also want to "eyeball" how much dressing to add. I typically don't use it all at once, and have enough dressing left over to make one more salad at a later date. It is from Taste of Home magazine.

Top Review by Gerry
Another ladyfinger winner! A wonderful salad that is super good - and a make ahead which is a super plus in my books. Love how this combination comes together to make for a wonderfully delicious salad that I can't wait to serve to family and friends. So on for my summer gatherings!!
In a small bowl, combine the onions, celery, green pepper and olives.
In another bowl, whisk together the oil, vinegar, mustard, salt and pepper.
Pour over vegetables and refrigerate several hours or overnight.
Just before serving, place the lettuce in a large salad bowl; add the cheese and dressing with vegetables.
Toss lightly.