ImPat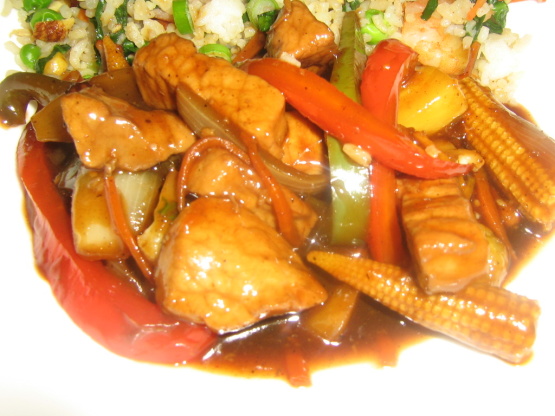 No need for Chinese take-out, this tastes way too good! It's a recipe I created after visiting Phuket as I fell in love with the use of brightly coloured vegetables and fresh ingredients. This is a versatile recipe where you can replace the pork with chicken, prawns, tofu or just add extra vegies. It's a rough estimate on the quantity of vegetables used here, so feel free to play around with what you add...hope you enjoy! (note: snowpeas are also a good addition to this recipe but I usually don't have them on hand so it's not included in the recipe list!) (second note: I find it tastes better when the veggies are really chunky!)

Top Review by ImPat
We loved this dish, though I added other vegetables that we liked and served with DH's fried rice. I did err when making the sauce in that I put everything into the pot, by the time I realized my error it was too late and I just went ahead and cooked it up and we had a lovely thick sauce and oh I doubled the sauce ingredients because I had more meat that stated (cut up a boned leg of pork) and with all the extra vegies I was into the dish thought it was the way to go. Thank you Hayley_11, made for Unrated Asian Recipe Tag game.
500

g pork, cut into sort of 2x2x2 pieces (i.e fillet, loin, leg etc)

Marinade

2

tablespoons soy sauce

1

tablespoon dry sherry

1

teaspoon sesame oil

Sweet and Sour Sauce

1

tablespoon cornflour

3

tablespoons water

2

tablespoons soy sauce

3

tablespoons brown sugar

2

tablespoons rice vinegar

1

tablespoon tomato sauce or 1 tablespoon ketchup
1⁄2 teaspoon Worcestershire sauce
1⁄8-1⁄4 teaspoon ground chili powder
water, extra

Other Stuff

1

teaspoon minced garlic

1

red onion, chopped

115

g baby corn, chopped

250

g red capsicums, diced largely (I find red capsicum is the nicest)

200

g zucchini, chopped
1⁄2-1 fresh pineapple, chopped (depending on size and how much pineapple you like in your sweet and sour)
1 1⁄2 teaspoons dried coriander (optional) or 1⁄2 bunch fresh coriander, chopped (optional)
Combine the marinade ingredients and add the pork. Allow the flavours to penetrate for at least 20 minutes (although it doesn't really matter if it can't be marinated for that long).
Combine the cornflour with a little of the extra water to form a smooth paste/liquid, then set aside. Combine the remaining sweet and sour sauce ingredients in a small saucepan and place over a high heat. When hot, whisk in the cornflour mixture. Continue to whisk over a high heat until the sauce until it has thickened to your liking. Set aside.
Place the pork and the marinade into a hot frypan (or wok)and fry until it's almost completely cooked. Remove pork from the pan and set aside.
Heat the garlic in the pan. Add the onion and stir fry for about 30 seconds before throwing in the baby corn. Cook for another 2-3 minutes. Add the capsicum, stir frying for another minute or so, then add the zucchini. After stir frying for another 2-4 minutes add the sweet and sour sauce you prepared earlier. Return the pork to the pan and season with pepper and dried coriander (if using). If you feel you need more liquid you can probably add a little bit of chicken or vegetable stock.
If the vegetables aren't quite cooked to your liking allow them to simmer in the sauce for however long they need to suit your taste buds (on the contrary you can reduce the stir frying time if you prefer crisper veggies). Add the pineapple (if using fresh coriander, add it in here)and allow it to heat slightly before taking the pan off the heat. Serve on steamed rice (I prefer basmati rice, but any long grain rice will suffice).