Sweet and Sour Kielbasa Kabobs
MMMM...great tasting and easy grilling fare!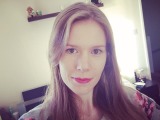 Oooh yes, great flavours in these addictive kabobs! That sauce! OMG I could eat it by the spoon. Great recipe, thanks for sharing!
In small saucepan, combine brown sugar, cornstarch, apple juice, cider vinegar and orange peel; blend well.
Cook over medium heat until it boils and thickens, stirring constantly.
Thread skewers with kielbasa, bell peppers, onions, and pineapples.
When ready to barbeque, place kabobs on preheated grill.
Cook 4 minutes.
Brush with glaze, turn and glaze again.
Cook 3-5 minutes or until hot and browned.
Serve with any remaining glaze.