kolibri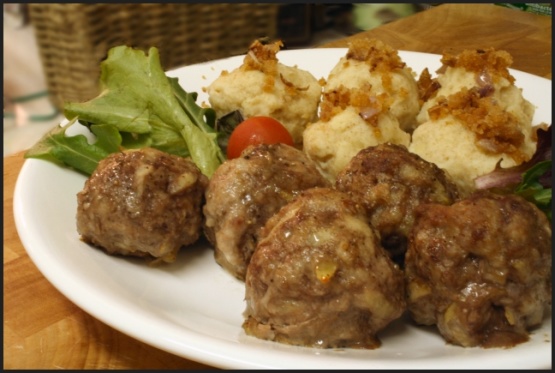 A very old Swedish recipe. We always have this on Christmas. The recipe says to serve this with a separate gravy-we just make a simple gravy from the pan drippings. I have substituted venison for the beef.

I made this for Jul, and served with recipe#112362 The flavor was great. I didn't find the pan drippings rich enough to yield a good gravy, so I served these with cranberry sauce. Next time I make them, I will make a lingonberry cream sauce in lieu of gravy. I grated my potatoes in the FP, and found the shreds to be overly long, resulting in "hairy" meatballs. Next time I make these, I will come up with a different grating strategy. The recipe yielded enough for four people plus plenty left over to freeze. A keeper.
Mix all ingredients well.
Form into small balls (1 inch).
Fry in batches in butter/oil mixture over low-medium heat, stirring often.The meatballs should be well browned and juices run clear, about 10-15 minutes.
Remove and serve on a platter with a separate gravy made with pan drippings.
Serve over mashed potatoes.