Stuffing for Christmas or Thanksgiving
Cathy17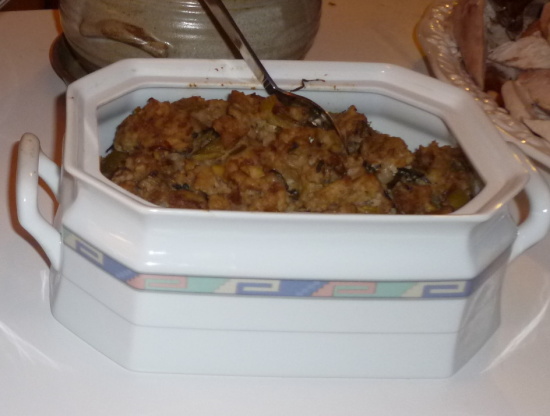 This is similar to my mom's recipe that she has made for years. She never measures and adds everything for our taste preferences. I have never been able to top her stuffing, but this comes very close. I don't measure the herbs. We like the sage flavor, so I tend to add more of that. I taste it until it tastes right to me. Adjust the herbs to whatever your taste preferences are. Your kitchen will smell wonderful as the herbs are cooking with the vegetables! If you like drier stuffing, adjust the amount of chicken broth. We like ours moist, so I use about 2 cans of swanson chicken broth. I always make several days ahead and freeze in ziploc bags with all the air squeezed out so that I'm not so rushed the day of the dinner.

First attempt making my own stuffing and it was perfect! My husband was worried because this is such an important dish for Thanksgiving but everything came out perfect! I only used two onions because they were large and almost 2 bags of bread crumbs...yummy!!
If you're using bread, toast bread in a large shallow baking pan in middle of oven until just dry, 25 to 30 minutes.
If you're using stuffing mix, you can skip this step.
Cook onions, celery, and herbs in butter in a large heavy skillet over moderately low heat, stirring occasionally, until celery is softened, about 10 minutes.
Stir together bread or stuffing mix, vegetables, broth, and salt and pepper to taste, then cool completely, uncovered.
Freezes extremely well.
Stuff in the turkey or bake at 350 for about 30 minutes.