Gatorbek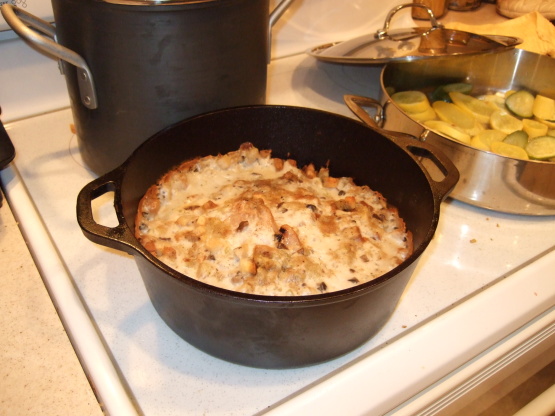 Comfort food! When I was an exhausted single Mom working 50 hours a week and driving 3 hours a day, my best friend Love watched the kids and would often have this dish waiting for me when I came home. God Bless good friends-they always make you feel loved when you go through your roughest times in life! Now I have the LUXURY of staying at home with my babies and my husband loves it when I make this! Life is always changing!

This recipe is fantastic. I used an entire bag of croutons for the "stuffing". It was quick and easy to make and a major hit for picky people. This is going to be a recipe I make often. Thank You!
4

pork chops (1 in. thick)

14.79

ml olive oil or 14.79 ml canola oil

709.77

ml stale bread, cut in 1/2 inch cubes

59.14

ml chicken broth

59.14

ml finely diced celery

59.14

ml finely diced onion

4.92

ml poultry seasoning

304.75

g can condensed cream of mushroom soup or 304.75 g can condensed cream of celery soup

78.07

ml water
Preheat oven to 350 degrees Farenheit.
Heat the oil in a large skillet and brown the pork chops.
Toss the bread cubes, onions, celery and seasoning together and drizzle the butter and broth over all, toss again to distribute evenly.
Mound the stuffing over the pork chops.
(you could also cut a slit in the side of each chop and stuff them, piling any extra stuffing on top of them) Whisk the soup and water together until smooth and pour it over the chops.
Cover with aluminum foil and bake for 30 minutes.
Uncover pan and bake 10-15 minutes more or until the juices run clear and meat thermometer reads 160-170 F.