Strawberry Icebox Pie With Almond Crust
KirstV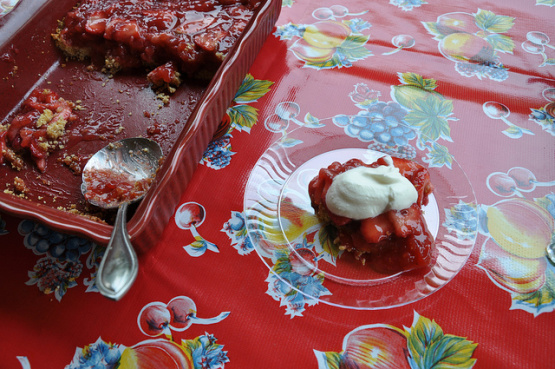 Chill this pie at least 2 hours before serving. From Bon Appetit.

This is a perfect 10 pie, not to sweet, easy to make, and even the presentation of the pie is perfect too. I made this for a BBQ during the 4th. and the guys got to it before us ladies came back from our walk and they didn't leave us 1 piece, I licked the pie plate:-) DH is requesting I make this again, when there is noone around to share with! Thanks Bev for a great recipe!!
For Crust: Position rack in center of oven; preheat to 350.
Butter 9" diameter glass pie dish.
Coarsely chop almonds in processor.
Add graham cracker crumbs, sugar and butter; process until evenly moistened.
Press crumb mixture onto bottom and up sides of prepared pie dish.
Bake crust until set, about 12 minutes.
Cool completely on rack.
For Filling: Place 2 cups strawberries in medium saucepan.
Mash strawberries with potato masher until chunky.
Add sugar, cornstarch and lemon juice.
Stir over medium-high heat until sugar dissolves and mixture boils and thickens, about 3 minutes.
Transfer mixture to bowl.
Cool to room temperature.
Stir in remaining 3 cups of strawberries and grated orange peel.
Mound filling in crust.
Chill pie until cold and set, at least 2 hours and up to 6 hours.
Makes 1-9" pie- serves 6.
Using elelctric mixer, beat cream in large bowl until peaks form.
Spread whipped cream decoratively over filling.
Cut pie into wedges and serve.