Stir Fried Asparagus With Mushrooms
Parsley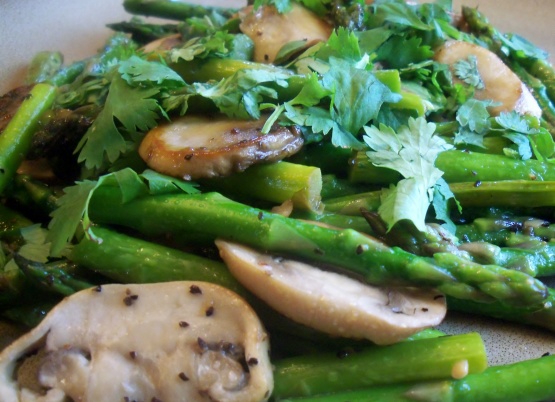 Wonderful dish with chicken. Do not over cook the asparagus they should be heated through but still crisp

If you love the taste of asparagus the way I do, you simply have to try this recipe! Very easy to prepare with excellent results! The mushrooms combined with the smooth taste of shallots simply make this a winner! Thank you so much for sharing this with us, Bergy!
2

tablespoons shallots, chopped

1

lb fresh asparagus, bottoms snapped, sliced diagonally into 1-inch pieces

2

cups sliced fresh mushrooms
salt & pepper

4

tablespoons coriander, fresh, chopped
Melt butter/margarine in a wok or heavy skillet. Add mushrooms and sauté, stirring until they are browned evenly.
Add asparagus and sauté, stirring for 1 minute.
Add salt, pepper and shallots; sauté 1/2 minute.
Sprinkle with the coriander and serve.