PaulaG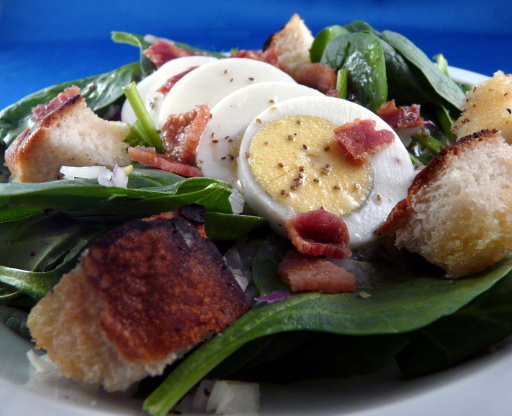 My mother made this salad and my family (those who don't have texture problems) loves it. She got this recipe from the Columbus Dispatch in Ohio. It uses everyday ingredients on hand. Update: I cut the amounts for the dressing in half, to decrease the amount of left over dressing.

Top Review by ksb927
This is a salad I have also made for years, but I go the 'lazy man's' route. I use bottled dressing...typically 'Seven Seas' Red Wine Vinaigrette. It complements the ingredients quite well, but also has the bits of onion for those of you who didn't care for that aspect. I just make a single salad, throwing a handful of spinach in a bowl, one egg quartered, top with the croutons and a slice (or two!) of crispy fried bacon. The only other thing I add that is not mentioned here are sliced fresh button mushrooms. They really add another dimension to the salad, not to mention tons of vitamins.
Mix spinach, eggs, bacon and croutons together.
For dressing, mix onion, sugar, salt, pepper, celery seed, vinegar and oil.(I mix up the dressing and let it sit for an hour or two, in the refrigerator, to let the flavors meld before serving).
Drizzle all with dressing to taste. This dressing keeps indefinitely in refrigerator.