Spinach & Roquefort Salad
PaulaG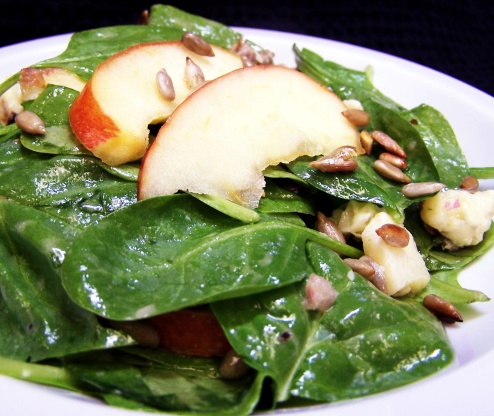 This french inspired salad utilizes blue cheese, thinly sliced apples, and sunflower seeds to perk up a traditional spinach salad. Artisanal cheese works best here as well as a tart apple. Recipe from Vegetarian Times.

Oooooooh emmmmmm geeeeee! This was so good! I used a little sugar in place of the honey, but otherwise made as directed! So so good! Thank you for posting -- this will be a repeater in my house! made for Veg*N Swap 37!
Make Vinaigrette. Combine vinegar, honey, salt, and pepper in a small bowl. Whisk in oil and water to emulsify. Stir in minced shallots.
Make Salad. Place sunflower seeds in medium skillet. Toast over medium heat 5-6 minutes or until browned and fragrant. Transfer to small bowl and let cool.
Thinly slice 1 large apple leaving peel on the apple for color. Use one large tart apple or two small contrasting flavors of apple.
Just before serving, toss baby spinach, thinly sliced apple, crumbled roquefort, and cooled sunflower seeds with vinaigrette. Divide among salad plates and serve.