Spinach Ricotta Pie with a Hint of Feta
Parsley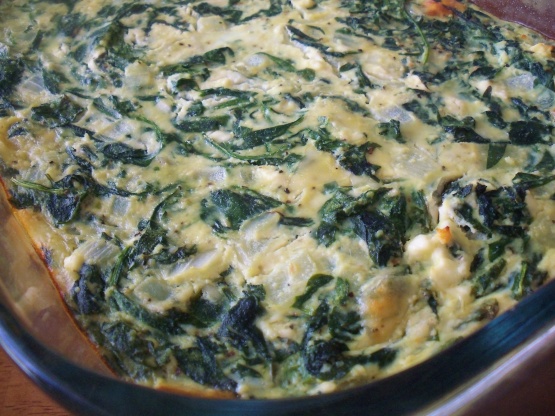 We've got a new local dairy (in such a small country, local also means national), that makes some of the best cheeses (and soy milk and soy puddings). This recipe really showcases their ricotta and feta cheeses. This is a great vegetarian dish to serve, we usually have some kind of variation after the Yom Kippur fast day. I also like to add some za'atar in with the oregano.

wonderful brunch dish. i followed your advice and added the za'atar, and i added a drop of freshly grated nutmeg to the spinach and onions while cooking. this is a keeper!
Preheat the oven to 375 degrees F.
Heat the oil in a heavy pot over high heat.
Add the onion and saute until translucent, about 3 minutes.
Add the spinach in batches, if necessary, and saute until the ribbons are just wilted.
Lightly beat the ricotta and the eggs together in a bowl.
Add the spinach mixture, feta, oregano and salt and pepper.
Mix thoroughly.
Pour the batter into a greased 9 x 13 inch pan.
Bake for about 40 minutes, until the top is lightly browned.
Serve warm or at room temperature.