Spinach and Mushroom Lasagna Roll Ups
Pamela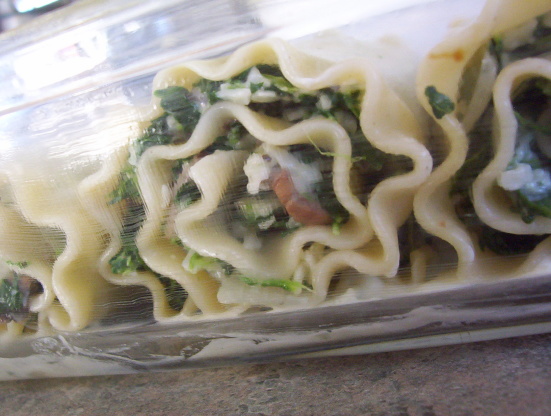 A great way to eat your veggies! This recipe makes and impressive meal to serve to guests. This recipe was created for RSC 6.

Great recipe. LOVE the sauce! Since we're not real big on cooked spinach, next time I'll probably halve or quarter the amount of spinach and double the mushrooms. 3 out of my family of 4 loved it (the 4th is 5 and being picky this evening).
Cook lasagna noodles.
Cook onions in 2 tablespoons butter until tender.
In a mixing bowl, combine spinach, onions, mozzarella cheese, sour cream and egg, garlic, basil and mushroom and mix well.
In a saucepan, melt 1/4 cup butter.
Stir in flour, bouillon, and stir in milk/water, cream,salt, pepper, and parmesan cheese.
Over medium heat, stir until mixture thickens then remove from heat.
Lay out 1 noodle at a time and spread 1/4 cup spinach mix over each noodle.
Roll up jelly roll fashion.
Spread small amount sauce on bottom of an 8 x 8 baking pan Place rolls in dish.
Spoon remaining sauce over roll ups.
Bake 30 to 35 minutes at 350 degrees until sauce bubbles.
Serve with a salad and garlic bread if desired.