Derf2440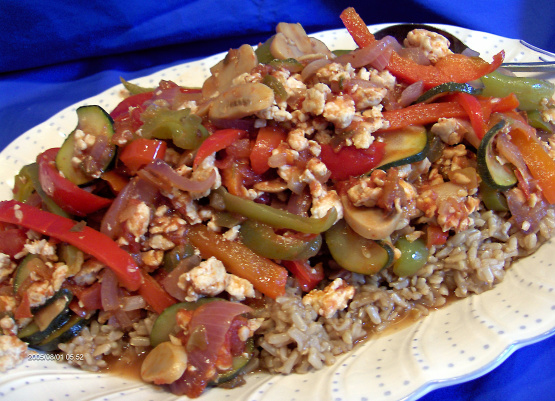 I made up this recipe in my diet days when I tried to eat healthy. It is quick, tasty and low fat. You can either serve on top of rice or wrap in a soft tortilla for a great low fat and filling meal.

First time ever cooking with ground chicken - sooooooo good!!!! Served it over white rice :-)
Slice all veggies.
Spray a non-stick skillet with cooking spray or optional olive oil.
Cook ground chicken until completely done, about 10 minutes.
Remove from pan and set aside.
Add onions and garlic to pan and sauté until translucent.
Add zucchini, mushrooms, red and green peppers.
Cover, stirring often until cooked.
Don't drain liquid.
Add cooked ground chicken and salsa to veggies.
Mix well.
Simmer about 10 minutes.
Serve wrapped in a soft flour tortilla or over rice.
DO NOT use ground chicken in the tube as it is dry and ruins the dish.