flower7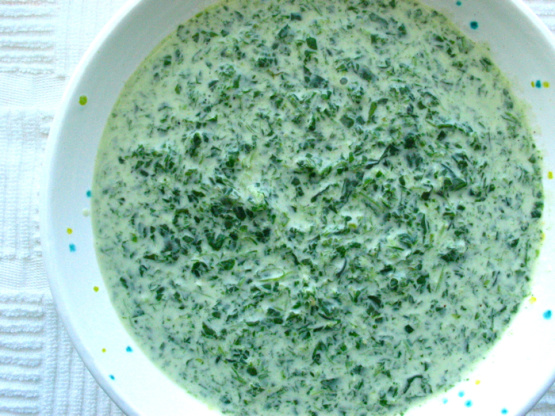 I'm not sure where I got this recipe from, I think it was from a fund raiser cookbook of some type. It is really quick, and very good. It uses only three ingredients. If you like spinach, I think you'll like this simple and easy spinach soup.

I think that this is a very good base to start with - as written, it will appeal most to people who like mild soups, or to children. I would add some garlic and onions next time. I added a bit of lemon juice to the serving to perk up the flavor. As I had frozen cut leaf spinach, I just tossed it frozen in the saucepan with all of the broth. When the broth was hot but not yet simmering, I added the cheese. I stirred until it was melted, removed from heat and zapped with the immersion blender. It did not need any additional heating at that point. I think a spoonful of plain yogurt on top would be a nice addition. I might try adding just a grating or two of nutmeg next time, again, just to make it a bit more interesting. This is worth making and playing around with, and depending on your preferences or needs, it might be just the ticket as is.
Press spinach between paper towels to remove extra water.
Combine spinach and cream cheese in a saucepan. Cook over medium-low heat until cheese melts, stirring frequently. Remove from heat; stir in half of the broth.
Transfer spinach to a blender, or use a handheld blender. Process on high speed for 1 minute or until smooth, scraping down sides to get all of it blended.
Return mixture to the saucepan and stir in remaining broth. Cook over medium heat until thoroughly heated, stirring frequently.