Spanish Chicken With Chorizo and Chickpeas
Pneuma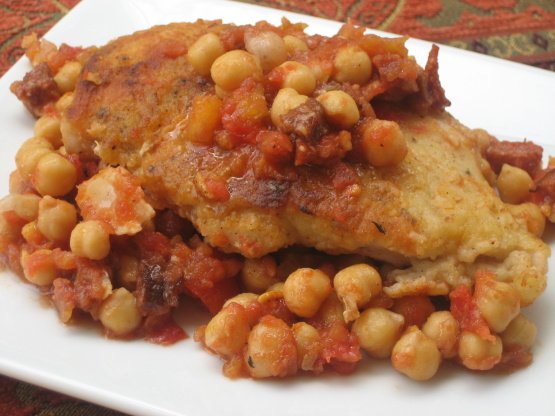 from Fine Cooking #95. Posted for 'Zaar World Tour 2009.

I didn't make this exactly as described so that may be why I thought it was fine but not great. I omitted the water because I used a 28 oz can of tomatoes. I used red wine vinegar because I didn't have sherry vinegar, but I wish that I had added some real sherry to boost the flavour and complement the saffron. I would probably cut down on the chickpeas next time or try to marinade or season them somehow; they didn't seem to absorb any of the flavours.
Purée the tomatoes and their juices, the vinegar, saffron, and 1/2 cup water in a blender or food processor. Season the chicken with 1 teaspoons salt and 1/2 teaspoons black pepper, dredge the chicken in the flour, and shake off any excess.
Heat 1-1/2 Tbs. of the oil in a 12-inch skillet over medium-high heat until shimmering hot. Add the chicken and cook without touching until browned, 2 to 3 minutes. Flip and cook until the other sides brown, 2 minutes more. Transfer to a plate.
Add the remaining 1 Tbs. oil to the pan and then add the chorizo and garlic. Cook, stirring often, until they start to brown, 1 to 2 minutes. Add the tomato purée, chickpeas, and thyme and bring to a boil. Add the chicken, nestling it into the sauce. Reduce the heat to a simmer, cover, and cook until the chicken is cooked through, about 10 minutes. Season to taste with salt and pepper. Remove the garlic cloves before serving, if you like.