alarra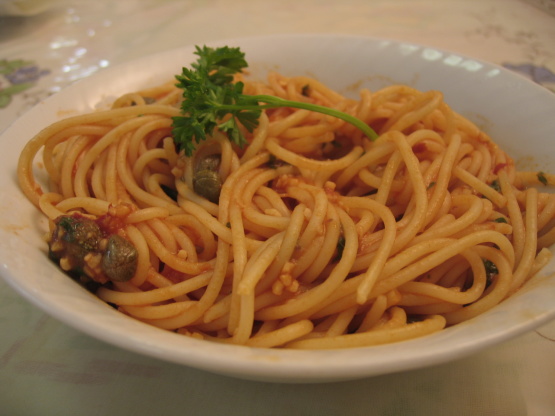 This is a great sauce when you have a yen for a lot of flavor. It can be made in the time it takes to cook the spaghetti noodles. From Fine Cooking, Spring 2002.

I am usually a fan of Puttanesca sauces, so I was very excited to try this version. I found it to be very easy to prepare and is a very hearty, thick sauce. However, I found the taste to be a bit too sour/tangy and also the heat from the red pepper was way too intense, it seemed to overwhelm the flavors - I mainly tasted heat and olive. Not a bad sauce, but this didn't go over well with my family. I am sorry -I really thought we would love this one.
Mix garlic with 1 tablespoon water in small bowl and set aside.
Bring 4 quarts of water to rolling boil in large pot.
When water is boiling, add 1 tablespoon salt and pasta; stir to separate pasta.
Heat oil, garlic mixture, red pepper flakes and anchovies in large skillet over medium heat.
Cook stirring frequently, until garlic is fragrant but not brown.
Stir in tomatoes and simmer until slightly thickened, about 8 minutes.
Cook pasta until done.
Drain and then return pasta to pot.
Add 1/4 cup of the reserved tomato juice and toss to combine.
(You can also add a tablespoon of extra-virgin olive oil if you like) Stir capers, olives and parsley into the sauce.
Pour sauce over pasta and toss to combine, adding more tomato juice to moisten if necessary.
Adjust seasonings to taste and serve immediately.