Cinda Lu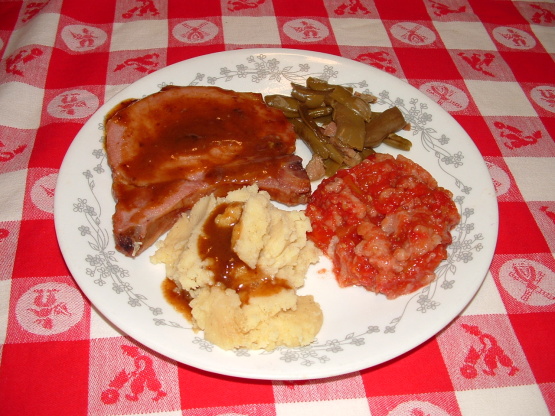 I generally serve this tomato dish with fish. They seem to compliment each other nicely.

DH and I visited a cafe near Bourbon, Mo that served the best sweet breaded tomatoes... this was a couple yearss ago...I believe it was called Lewis cafe. I have been in search of a recipe that was close to the taste of those tomatoes and I believe this is about as close as it comes. These are great!!! And so easy.... I used my home canned tomatoes from our garden and the only change I made was to use just a bit less sugar than the recipe called for. Thanks Norma, they are awesome!!!
Preheat oven to 350°F.
Spray an oven proof casserole with cooking spray and set aside.
Put the tomatoes with their juices into the casserole and cut up into chunks.
Add the sugar and stir.
Cut the butter into chunks and add to tomato mixture.
Stir in the stale bread cubes-enough to make a thick mixture.
Bake uncovered for 30-35 minutes, or until the top is lightly browned and the mixture is very thick.
Cover with foil if it appears to be browning too quickly towards the end.